Patriotic Door Hanger
Lesson Plan, Grades 1-12, Summer, Seasonal, Sax, School Smart, Roylco, Royal, Prang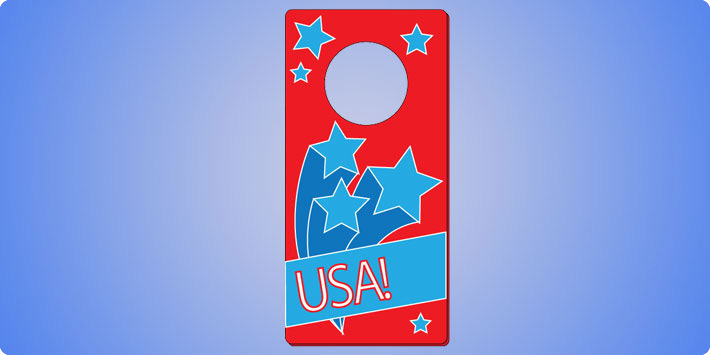 Description
Identify patriotic symbols and discuss why they are important to Americans. Use symbols to create a festive door hanger in just three easy steps!
Supplies Needed
Wooden Door Hanger 075186
Sax True Flow Acrylic Medium Bodied Paint, Pint, Phthalo Red 408500
Sax True Flow Acrylic Medium Bodied Paint, Pint, Phthalo Blue 439247
Sax True Flow Medium Bodied Acrylic Paint, Pint, Titanium White 439265
School Smart Metallic Glue, 8 Oz Bottles, Set of 8 Assorted Colors 401298
Roylco Dip & Print Sponges Numbers, Shapes and Letters Classroom Pack 209336
School Smart Unique Shape Sponge Roller Set, Set of 4 085729
Royal Sable Brush Super Value Pack, Set of 120 409325
You will also need:
School Smart Super Value 50 pound Drawing Paper, 18 x 24, Pack of 500, White 085609
Prang Colored Pencils, Set of 12 Assorted Colors 405826
School Smart Plastic Paint Tray with Cover, Pack of 12 085860

Instructions
1
Using the blank template, create your own patriotic design. Use stars, stripes, swirls or fireworks. If you're not sure what to draw, use the provided sample!
2
Paint the door hanger your base color. Allow to dry.
3
Add additional colors using sponges, brushes or glitter glue. Allow each design to dry completely to prevent smudging.