Photo Booth Fun
Lesson Plan, Grades K-8, Summer, Character Development, Fine Motor, Art, Seasonal, Elmer's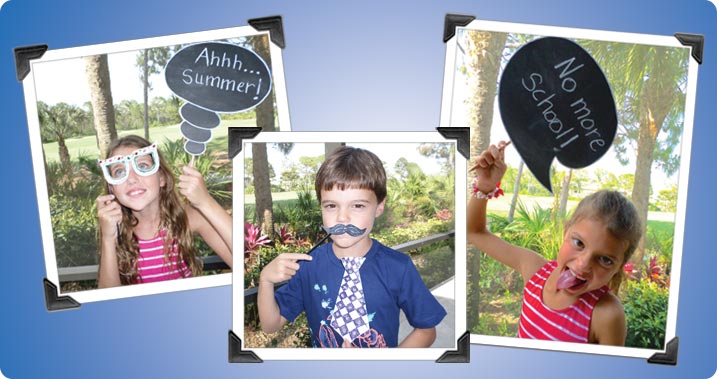 Capture their creativity and their smiles with these fun photo props!
Humor and laughter are invaluable to the quality of our lives - especially when things get a little tough. Parents who welcome silliness in the family routine are better able to help children heal bad moods, deal with disappointments, alleviate stress and bring the whole family back into sync.
Kids need opportunities to laugh, pretend, and just be silly. Digital cameras make photo fun easy and instantaneous. With a few creative props and a little imagination, turn your family room into a fun studio and set the stage for an award-winning production. These fun and easy props will showcase kids' creativity and make lots of smiles.
Cognitive Benefits:
Social-Emotional Benefits:
Risk-free play, communication skills, understanding emotions
Family Advantages:
Use role-play to improve family communication and create lasting memories
Supplies Needed
Elmer's Cork Foam Board
Elmer's Glitter Glue
Elmer's Glue-All®
Cardstock
Dowel rods, craft sticks, or straws
Markers or crayons
Chalk
Scissors

Instructions
Prep, create, and clean-up time:
1
Cut out the templates above. In addition, draw speech bubble, thought bubble, or picture frame shapes on Chalk Foam Board. Children can cut the basic shapes, but an adult should use an X-ACTO® knife to cut out the lenses of the glasses and the speech and thought bubbles from the Chalk Foam Board.
2
Use markers or crayons to decorate the shapes. Add some sparkle with Elmer's Glitter Glue or glue other embellishments to the props such as gemstones or sequins. Encourage your child to be creative with colors and decorative additions.
3
Let the shapes dry completely.
4
Once the shapes are dry, use Elmer's Glue-All® to glue a dowel rod or craft stick to the back of each prop. (You can also use unsharpened pencils, or long sturdy straws to use as handles.)
5
Using chalk, let your child write fun exclamations of summer on the Chalk Foam Board. After snapping the photos, children can erase and write a different phrase for another photo.
6
Put on your happy faces, get silly, and let the fun begin!
Create a Photo Story
With a digital camera, it is easy to create a photo story in a slide show format. Have a conversation with your children about the various ways in which we communicate feelings other than words such as body language and expressions. Get creative with them to plan a "silent movie" and decide which props they might need to tell their story. Each time they change the phrases on the speech/thought bubbles, snap a photo. When the "photo story" is ]inished, assemble the photos in the correct order to create a slide show. You can add background music that matches the mood of the story, and many basic slideshow programs allow you to add titles, credits, and transitions.
Activities such as these will reinforce essential reading comprehension skills such as characterization, sequence, and story elements. And, they will love to see themselves as the stars of the show!
Start with a Story!
Picture Day Perfection by Deborah Diesen is a wonderful story to engage children in this activity. Every school-age child can relate to picture day. The boy at the center of this story wants to make sure his picture is perfect, but a little bedhead and other problems get in the way. Children will enjoy the silly illustrations and charming story, and they learn that the most important part of the picture is the smile.
This project is provided by Elmer's Products, Inc. For more Summer Learning Crafts download its intire Summer Learning Crafts Booklet: