Leaf-Motif Frame
Lesson Plan, Grades 2-4, Language Arts, Science, Ecology, Technology, Art, Fall/Autumn, Crayola, School Smart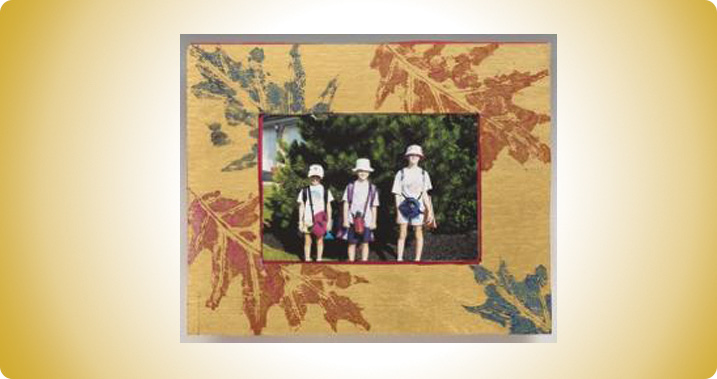 Description
Capture nature's spirit by creating a leaf-print picture frame. Gold Crayola® Premier™ Tempera creates a dazzling gift to hold a favorite photo or nature collage.
Supplies Needed
Brushes
Cardboard or Foam Core
Cup or Bottle
Glue Sticks
Paper Towels
Pointed Tip Scissors
Recycled Material
Tempera Paint

Standards
LA: Ask and answer questions to demonstrate understanding of a text, referring explicitly to the text as the basis for the answers.
LA: Use information gained from illustrations (e.g., maps, photographs) and the words in a text to demonstrate understanding of the text (e.g., where, when, why, and how key events occur).
LA: Compare and contrast the most important points and key details presented in two texts on the same topic.
LA: Write informative/explanatory texts to examine a topic and convey ideas and information clearly.
LA: Conduct short research projects that build knowledge about a topic.
LA: Report on a topic or text, tell a story, or recount an experience with appropriate facts and relevant, descriptive details, speaking clearly at an understandable pace.
MATH: Represent measurement quantities using diagrams such as number line diagrams that feature a measurement scale.
SCI: Obtain information from text and other media about different types of local weather, including severe weather, and identify the most common types of weather in the local region.
VA: Use visual structures of art to communicate ideas.
VA: Select and use subject matter, symbols, and ideas to communicate meaning.

Instructions
1
During a unit of study focused on the seasons, ask students to collect fallen plant and tree leaves outdoors. Encourage them to select only those that are safe to handle. Students wash their hands upon returning from their leaf collection.
2
Working in small groups, students research the life cycle of leaves. Find out why leaves are important to the natural environment, both while they are on the plant and after they have fallen. Students identify all the leaves that were collected.
3
Share with the class that they will be creating a picture frame with a leaf motif. Students begin this activity by cutting out the middle of a large piece of cardboard using Crayola Scissors.
4
Students cover their work area with recycled newspaper. Paint the frame with gold Crayola Premier Tempera Paint. Dry.
5
Suggest to students that they brush the underside of a leaf with a contrasting color of Crayola Tempera. Press the painted sides down around the opening. Repeat. Use your imagination to create a unique leaf design. Dry.
6
To create a frame backing, students attach their photos or artwork to cardboard with a Crayola Glue Stick. A nature collage would be a perfect complement! Glue the cardboard to the back of the frame.
Adaptations
Students create a timeline of the life cycle of a leaf. Include a brief written summary of the leaf during each stage of life and a sketch of the leaf as a visual.
Students can use the same technique used in creating the frame to create original greeting cards and gift cards.
Have each student in the class document the leaf types he contributed to this lesson and the total number of leaves. Students collect the data and graph the different types of leaves used to create the picture frames.
Students research leaf types and identify whether or not the leaf is from a tree that blooms. If so, the students will create an original illustration of the leaf with its bloom.