3-D Beach Frame
Lesson Plan, Grades K-8, Summer, Fine Motor, Art, Seasonal, Elmer's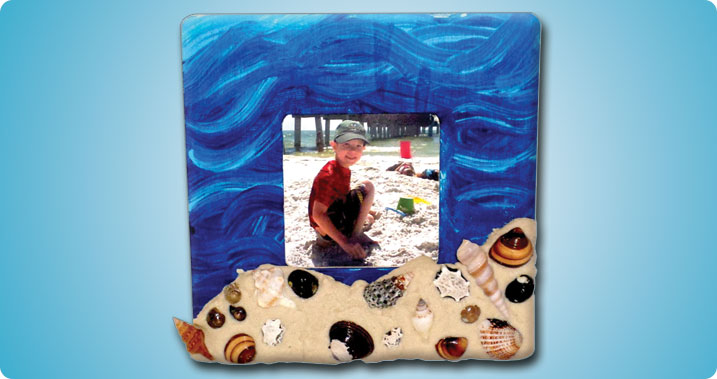 Sunshine, sand castles, and seashells!
Kids learn through all of their senses, and they love to touch and manipulate things. When they combine activities that include talking, listening, and manipulating materials, they are activating different areas of their brains. The more parts of the brain we use, the more likely we are to remember that particular experience and connect with it in the future.
A beach vacation can be a great place to engage all of the senses with a fun family craft. Take advantage of all the natural resources around you and create fun 3-D photo frames to capture the memories. A little sand, a few shells, some Elmer's Glue-All® and an inexpensive wood photo frame are all you need to create a vacation souvenir that the whole family will love.
Cognitive Benefits:
Fine motor skills

Visual and spatial development
Social-Emotional Benefits:
Tactile manipulation reduces stress
Family Advantages:
Supplies Needed
Elmer's Glue-All®
Wooden photo frame
Paint
Paint brushes
Shells
Clean sand

Instructions
Prep, create, and clean-up time:
Drying time:
1
When you arrive at the beach, take the whole family on a seashell hunt. Look for a wide variety of small, colorful shells and enjoy the time spent collecting them together.
2
In a small bucket mix equal parts of Elmer's Glue-All® and clean sand. Let the kids use their hands to make sure that the glue is evenly mixed through the sand. It should be fairly stiff, but pliable enough to mold on the frame.
3
Use your fingers to apply the sand-glue mixture to the bottom of the wooden frame. Mold the mixture to create the look of the beach. Make sure that the sand stays even with the bottom of the frame. You may need to scrape sand from the bottom of the frame so that it will stand upright.
4
Before the sand-glue mixture dries, add a layer of glue and place a few shells into the sand.
5
Place the frames in a location where they can dry undisturbed. Do not leave them where they can get wet. Depending on the thickness of your sand-glue mixture, it could take more than 24 hours to dry. When dry, the sand-glue mixture will harden to preserve your shells and creativity.
6
Get the family together for a fun photo session so that you can fill the frames with smiles!
Build a Sand Castle Sculpture with 10 - 3 - 1!
Sand castles are fun to make, but children are often disappointed to find them gone the next day when the tide has washed them away. To make your sand sculpture a bit more permanent, Elmer's School Glue or Elmer's Glue-All will work as an in-sand cement base as well as a finishing spray to preserve your masterpiece until it's time to leave. And since both are non-toxic, they will not harm the environment.
Build the base of your sand castle with slightly wet sand. In a bucket, create a mixture of sand, water, and glue to build the sculpture. Combine 10 cups of sand, with 3 cups of water, and 1 cup of glue and mix well. Kids will love the freedom to dig in and get messy.
Use smaller cups, cones, or buckets to add molded sections and build up the sculpture. Add small amounts of water if the sand begins to harden. Once the masterpiece is finished, you can use glue and water as a finishing spray. Combine one part glue with two parts water in a spray bottle. Spray the entire sculpture to protect it from wind and light rain.
Start with a Story!
The Sand Castle Contest by Robert Munsch (author of Love You Forever) is a great book to use as a springboard for this fun family craft. The character in the story is excited to be on vacation, but he's even more excited about the local sand castle contest. He builds such an extraordinary sand castle complete with sand tables and chairs, a sand refrigerator, and sand food. Children love this fun story and colorful illustrations.
This project is provided by Elmer's Products, Inc. For more Summer Learning Crafts download its intire Summer Learning Crafts Booklet: