Teacher-Selected "Get Ready" Backpacks
Support the School-Home Connection
Childcraft "Get Ready" Backpacks are packed with quality materials and activities designed to make learning fun and build a connection between home and school. The easy-to-read guide is filled with ideas that support early learning standards and involve parents as partners in their child's success! Choose from English or Spanish versions for toddler, preschool, and kindergarten students and help a child prepare for the year ahead.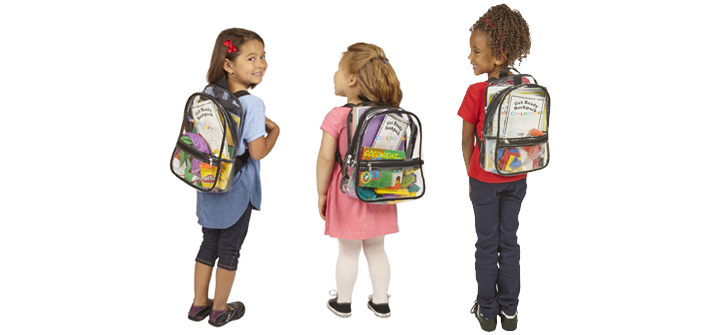 Childcraft Toddler Readiness Backpack
Contents:
Goodnight Moon Board Book
Building Bricks Set
Large Crayons, 8 ct.
Construction Paper, 50 ct.
Get Ready Backpack Activity Booklet
Clear Vinyl Backpack
Childcraft PreK Readiness Backpack
Contents:
5" Kids Scissors, Blunt Tip
Glue Stick
2" Magnifier with Safety Lanyard
Heavy Duty Beach Ball
Bead Lacing Kit
Classic Play-Doh
Large Crayons, 8 ct.
Construction Paper, 50 ct.
Owl Babies Paperback Book
Get Ready Backpack Activity
Clear Vinyl Backpack
Childcraft Kindergarten Readiness Backpack
Contents:
5" Kids Scissors, Blunt Tip
Glue Stick
9 x 11" Alphabet Chart
Dry Erase Markers, 8 ct.
Double-Sided Magnetic Lined/Plain Dry Erase Board
4 oz. Wonder Bubbles
Attribute Block Set
11 x 13" Number Board
Construction Paper, 50 ct.
A House for Hermit Crab Paperback Book
Get Ready Backpack Activity Booklet
Clear Vinyl Backpack