Santa Handprint Ornament
Activity, Grades K-4, Winter, Art, Seasonal, Prang, DAS, Ticonderoga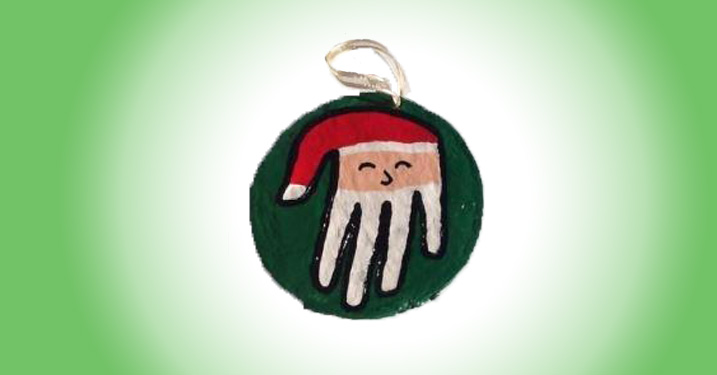 Description
These clay ornaments will look great on either the wall or a Christmas tree!
Prang Washable Tempera Paint
DAS Air-Hardening Modeling Clay
Ticonderoga Pencil
Coffee can lid or other circular object
Prang Art Markers or Prang Paint
Paint brush
Scissors
Clay glaze
Ribbon
Rolling Pin

Instructions
1
Place a fist sized amount of clay in the coffee can lid.
2
Roll clay flat with a rolling pin completely filling the lid.
4
Trace outline of hand with sculpting tool.
5
Remove clay from coffee can lid.
6
Poke a hole in the top middle part of clay for ribbon.
7
Allow clay to dry for 24 hours.
8
Use Ticonderoga pencil to trace outline of Santa's hat and beard.
9
Use Prang Tempera paint to give Santa color. Allow 30 minutes to dry between coats.
10
Trace over original handprint using black Prang Tempera paint. Allow 24 hours to dry.
11
Apply two coats of glaze, waiting 30 minutes between coats.
12
Allow 24 hours to dry completely.
13
Cut ribbon, thread through hole, and hang ornament on your Christmas tree.