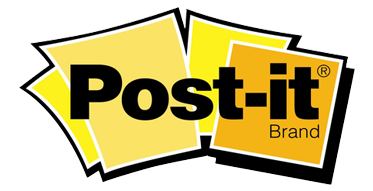 Make It Stick with Post-it®
Capture Ideas Big and Small with Post-it
For over 35 years, Post-it has helped people be more productive, communicate better, and express themselves in a number of creative ways. Support productivity and collaboration in all forms with a myriad of Post-it products. Whether working on your own or with a group, whether face-to-face or across great distances, Post-it products help you do more and connect ideas more efficiently.
Category
Post-It
Select Special Needs Type
Press enter to collapse or expand the menu.
Product List
School Specialty Shipping Policy

Items Shipped Within the Contiguous 48 United States

Free Shipping Eligible Items

Free shipping and handling on eligible supply orders of $49 or more. Free shipping calculation is based on the subtotals of eligible items, after any additional discounts are applied.
For subtotals less than $49, the shipping and handling charge is $9.95.

Free Shipping Ineligible Items

Shipping and handling charges are 12% of the subtotal of the items, after any discounts are applied, with a $5 minimum charge.

Free Shipping Ineligible Items

Shipping and handling charges are 15% of the subtotal of the items, after any discounts are applied, with a $99 minimum charge. If the subtotal is greater than $1,000, please call 1-877-350-0645 or E-mail freight_quote@schoolspecialty.com for a freight quote.

School Specialty Shipping Policy

Items Shipped Within the Contiguous 48 United States

Free Shipping Eligible Items

Free shipping and handling on eligible supply orders of $49 or more. Free shipping calculation is based on the subtotals of eligible items, after any additional discounts are applied.
For subtotals less than $49, the shipping and handling charge is $9.95.

Free Shipping Ineligible Items

Shipping and handling charges are 12% of the subtotal of the items, after any discounts are applied, with a $5 minimum charge.

Free Shipping Ineligible Items

Shipping and handling charges are 15% of the subtotal of the items, after any discounts are applied, with a $99 minimum charge. If the subtotal is greater than $1,000, please call 1-877-350-0645 or E-mail freight_quote@schoolspecialty.com for a freight quote.

School Specialty Shipping Policy

Items Shipped Within the Contiguous 48 United States

Free Shipping Eligible Items

Free shipping and handling on eligible supply orders of $49 or more. Free shipping calculation is based on the subtotals of eligible items, after any additional discounts are applied.
For subtotals less than $49, the shipping and handling charge is $9.95.

Free Shipping Ineligible Items

Shipping and handling charges are 12% of the subtotal of the items, after any discounts are applied, with a $5 minimum charge.

Free Shipping Ineligible Items

Shipping and handling charges are 15% of the subtotal of the items, after any discounts are applied, with a $99 minimum charge. If the subtotal is greater than $1,000, please call 1-877-350-0645 or E-mail freight_quote@schoolspecialty.com for a freight quote.

School Specialty Shipping Policy

Items Shipped Within the Contiguous 48 United States

Free Shipping Eligible Items

Free shipping and handling on eligible supply orders of $49 or more. Free shipping calculation is based on the subtotals of eligible items, after any additional discounts are applied.
For subtotals less than $49, the shipping and handling charge is $9.95.

Free Shipping Ineligible Items

Shipping and handling charges are 12% of the subtotal of the items, after any discounts are applied, with a $5 minimum charge.

Free Shipping Ineligible Items

Shipping and handling charges are 15% of the subtotal of the items, after any discounts are applied, with a $99 minimum charge. If the subtotal is greater than $1,000, please call 1-877-350-0645 or E-mail freight_quote@schoolspecialty.com for a freight quote.

School Specialty Shipping Policy

Items Shipped Within the Contiguous 48 United States

Free Shipping Eligible Items

Free shipping and handling on eligible supply orders of $49 or more. Free shipping calculation is based on the subtotals of eligible items, after any additional discounts are applied.
For subtotals less than $49, the shipping and handling charge is $9.95.

Free Shipping Ineligible Items

Shipping and handling charges are 12% of the subtotal of the items, after any discounts are applied, with a $5 minimum charge.

Free Shipping Ineligible Items

Shipping and handling charges are 15% of the subtotal of the items, after any discounts are applied, with a $99 minimum charge. If the subtotal is greater than $1,000, please call 1-877-350-0645 or E-mail freight_quote@schoolspecialty.com for a freight quote.

School Specialty Shipping Policy

Items Shipped Within the Contiguous 48 United States

Free Shipping Eligible Items

Free shipping and handling on eligible supply orders of $49 or more. Free shipping calculation is based on the subtotals of eligible items, after any additional discounts are applied.
For subtotals less than $49, the shipping and handling charge is $9.95.

Free Shipping Ineligible Items

Shipping and handling charges are 12% of the subtotal of the items, after any discounts are applied, with a $5 minimum charge.

Free Shipping Ineligible Items

Shipping and handling charges are 15% of the subtotal of the items, after any discounts are applied, with a $99 minimum charge. If the subtotal is greater than $1,000, please call 1-877-350-0645 or E-mail freight_quote@schoolspecialty.com for a freight quote.

School Specialty Shipping Policy

Items Shipped Within the Contiguous 48 United States

Free Shipping Eligible Items

Free shipping and handling on eligible supply orders of $49 or more. Free shipping calculation is based on the subtotals of eligible items, after any additional discounts are applied.
For subtotals less than $49, the shipping and handling charge is $9.95.

Free Shipping Ineligible Items

Shipping and handling charges are 12% of the subtotal of the items, after any discounts are applied, with a $5 minimum charge.

Free Shipping Ineligible Items

Shipping and handling charges are 15% of the subtotal of the items, after any discounts are applied, with a $99 minimum charge. If the subtotal is greater than $1,000, please call 1-877-350-0645 or E-mail freight_quote@schoolspecialty.com for a freight quote.

School Specialty Shipping Policy

Items Shipped Within the Contiguous 48 United States

Free Shipping Eligible Items

Free shipping and handling on eligible supply orders of $49 or more. Free shipping calculation is based on the subtotals of eligible items, after any additional discounts are applied.
For subtotals less than $49, the shipping and handling charge is $9.95.

Free Shipping Ineligible Items

Shipping and handling charges are 12% of the subtotal of the items, after any discounts are applied, with a $5 minimum charge.

Free Shipping Ineligible Items

Shipping and handling charges are 15% of the subtotal of the items, after any discounts are applied, with a $99 minimum charge. If the subtotal is greater than $1,000, please call 1-877-350-0645 or E-mail freight_quote@schoolspecialty.com for a freight quote.

School Specialty Shipping Policy

Items Shipped Within the Contiguous 48 United States

Free Shipping Eligible Items

Free shipping and handling on eligible supply orders of $49 or more. Free shipping calculation is based on the subtotals of eligible items, after any additional discounts are applied.
For subtotals less than $49, the shipping and handling charge is $9.95.

Free Shipping Ineligible Items

Shipping and handling charges are 12% of the subtotal of the items, after any discounts are applied, with a $5 minimum charge.

Free Shipping Ineligible Items

Shipping and handling charges are 15% of the subtotal of the items, after any discounts are applied, with a $99 minimum charge. If the subtotal is greater than $1,000, please call 1-877-350-0645 or E-mail freight_quote@schoolspecialty.com for a freight quote.

School Specialty Shipping Policy

Items Shipped Within the Contiguous 48 United States

Free Shipping Eligible Items

Free shipping and handling on eligible supply orders of $49 or more. Free shipping calculation is based on the subtotals of eligible items, after any additional discounts are applied.
For subtotals less than $49, the shipping and handling charge is $9.95.

Free Shipping Ineligible Items

Shipping and handling charges are 12% of the subtotal of the items, after any discounts are applied, with a $5 minimum charge.

Free Shipping Ineligible Items

Shipping and handling charges are 15% of the subtotal of the items, after any discounts are applied, with a $99 minimum charge. If the subtotal is greater than $1,000, please call 1-877-350-0645 or E-mail freight_quote@schoolspecialty.com for a freight quote.

School Specialty Shipping Policy

Items Shipped Within the Contiguous 48 United States

Free Shipping Eligible Items

Free shipping and handling on eligible supply orders of $49 or more. Free shipping calculation is based on the subtotals of eligible items, after any additional discounts are applied.
For subtotals less than $49, the shipping and handling charge is $9.95.

Free Shipping Ineligible Items

Shipping and handling charges are 12% of the subtotal of the items, after any discounts are applied, with a $5 minimum charge.

Free Shipping Ineligible Items

Shipping and handling charges are 15% of the subtotal of the items, after any discounts are applied, with a $99 minimum charge. If the subtotal is greater than $1,000, please call 1-877-350-0645 or E-mail freight_quote@schoolspecialty.com for a freight quote.

School Specialty Shipping Policy

Items Shipped Within the Contiguous 48 United States

Free Shipping Eligible Items

Free shipping and handling on eligible supply orders of $49 or more. Free shipping calculation is based on the subtotals of eligible items, after any additional discounts are applied.
For subtotals less than $49, the shipping and handling charge is $9.95.

Free Shipping Ineligible Items

Shipping and handling charges are 12% of the subtotal of the items, after any discounts are applied, with a $5 minimum charge.

Free Shipping Ineligible Items

Shipping and handling charges are 15% of the subtotal of the items, after any discounts are applied, with a $99 minimum charge. If the subtotal is greater than $1,000, please call 1-877-350-0645 or E-mail freight_quote@schoolspecialty.com for a freight quote.

School Specialty Shipping Policy

Items Shipped Within the Contiguous 48 United States

Free Shipping Eligible Items

Free shipping and handling on eligible supply orders of $49 or more. Free shipping calculation is based on the subtotals of eligible items, after any additional discounts are applied.
For subtotals less than $49, the shipping and handling charge is $9.95.

Free Shipping Ineligible Items

Shipping and handling charges are 12% of the subtotal of the items, after any discounts are applied, with a $5 minimum charge.

Free Shipping Ineligible Items

Shipping and handling charges are 15% of the subtotal of the items, after any discounts are applied, with a $99 minimum charge. If the subtotal is greater than $1,000, please call 1-877-350-0645 or E-mail freight_quote@schoolspecialty.com for a freight quote.

School Specialty Shipping Policy

Items Shipped Within the Contiguous 48 United States

Free Shipping Eligible Items

Free shipping and handling on eligible supply orders of $49 or more. Free shipping calculation is based on the subtotals of eligible items, after any additional discounts are applied.
For subtotals less than $49, the shipping and handling charge is $9.95.

Free Shipping Ineligible Items

Shipping and handling charges are 12% of the subtotal of the items, after any discounts are applied, with a $5 minimum charge.

Free Shipping Ineligible Items

Shipping and handling charges are 15% of the subtotal of the items, after any discounts are applied, with a $99 minimum charge. If the subtotal is greater than $1,000, please call 1-877-350-0645 or E-mail freight_quote@schoolspecialty.com for a freight quote.

School Specialty Shipping Policy

Items Shipped Within the Contiguous 48 United States

Free Shipping Eligible Items

Free shipping and handling on eligible supply orders of $49 or more. Free shipping calculation is based on the subtotals of eligible items, after any additional discounts are applied.
For subtotals less than $49, the shipping and handling charge is $9.95.

Free Shipping Ineligible Items

Shipping and handling charges are 12% of the subtotal of the items, after any discounts are applied, with a $5 minimum charge.

Free Shipping Ineligible Items

Shipping and handling charges are 15% of the subtotal of the items, after any discounts are applied, with a $99 minimum charge. If the subtotal is greater than $1,000, please call 1-877-350-0645 or E-mail freight_quote@schoolspecialty.com for a freight quote.

School Specialty Shipping Policy

Items Shipped Within the Contiguous 48 United States

Free Shipping Eligible Items

Free shipping and handling on eligible supply orders of $49 or more. Free shipping calculation is based on the subtotals of eligible items, after any additional discounts are applied.
For subtotals less than $49, the shipping and handling charge is $9.95.

Free Shipping Ineligible Items

Shipping and handling charges are 12% of the subtotal of the items, after any discounts are applied, with a $5 minimum charge.

Free Shipping Ineligible Items

Shipping and handling charges are 15% of the subtotal of the items, after any discounts are applied, with a $99 minimum charge. If the subtotal is greater than $1,000, please call 1-877-350-0645 or E-mail freight_quote@schoolspecialty.com for a freight quote.

School Specialty Shipping Policy

Items Shipped Within the Contiguous 48 United States

Free Shipping Eligible Items

Free shipping and handling on eligible supply orders of $49 or more. Free shipping calculation is based on the subtotals of eligible items, after any additional discounts are applied.
For subtotals less than $49, the shipping and handling charge is $9.95.

Free Shipping Ineligible Items

Shipping and handling charges are 12% of the subtotal of the items, after any discounts are applied, with a $5 minimum charge.

Free Shipping Ineligible Items

Shipping and handling charges are 15% of the subtotal of the items, after any discounts are applied, with a $99 minimum charge. If the subtotal is greater than $1,000, please call 1-877-350-0645 or E-mail freight_quote@schoolspecialty.com for a freight quote.

School Specialty Shipping Policy

Items Shipped Within the Contiguous 48 United States

Free Shipping Eligible Items

Free shipping and handling on eligible supply orders of $49 or more. Free shipping calculation is based on the subtotals of eligible items, after any additional discounts are applied.
For subtotals less than $49, the shipping and handling charge is $9.95.

Free Shipping Ineligible Items

Shipping and handling charges are 12% of the subtotal of the items, after any discounts are applied, with a $5 minimum charge.

Free Shipping Ineligible Items

Shipping and handling charges are 15% of the subtotal of the items, after any discounts are applied, with a $99 minimum charge. If the subtotal is greater than $1,000, please call 1-877-350-0645 or E-mail freight_quote@schoolspecialty.com for a freight quote.

School Specialty Shipping Policy

Items Shipped Within the Contiguous 48 United States

Free Shipping Eligible Items

Free shipping and handling on eligible supply orders of $49 or more. Free shipping calculation is based on the subtotals of eligible items, after any additional discounts are applied.
For subtotals less than $49, the shipping and handling charge is $9.95.

Free Shipping Ineligible Items

Shipping and handling charges are 12% of the subtotal of the items, after any discounts are applied, with a $5 minimum charge.

Free Shipping Ineligible Items

Shipping and handling charges are 15% of the subtotal of the items, after any discounts are applied, with a $99 minimum charge. If the subtotal is greater than $1,000, please call 1-877-350-0645 or E-mail freight_quote@schoolspecialty.com for a freight quote.

School Specialty Shipping Policy

Items Shipped Within the Contiguous 48 United States

Free Shipping Eligible Items

Free shipping and handling on eligible supply orders of $49 or more. Free shipping calculation is based on the subtotals of eligible items, after any additional discounts are applied.
For subtotals less than $49, the shipping and handling charge is $9.95.

Free Shipping Ineligible Items

Shipping and handling charges are 12% of the subtotal of the items, after any discounts are applied, with a $5 minimum charge.

Free Shipping Ineligible Items

Shipping and handling charges are 15% of the subtotal of the items, after any discounts are applied, with a $99 minimum charge. If the subtotal is greater than $1,000, please call 1-877-350-0645 or E-mail freight_quote@schoolspecialty.com for a freight quote.

School Specialty Shipping Policy

Items Shipped Within the Contiguous 48 United States

Free Shipping Eligible Items

Free shipping and handling on eligible supply orders of $49 or more. Free shipping calculation is based on the subtotals of eligible items, after any additional discounts are applied.
For subtotals less than $49, the shipping and handling charge is $9.95.

Free Shipping Ineligible Items

Shipping and handling charges are 12% of the subtotal of the items, after any discounts are applied, with a $5 minimum charge.

Free Shipping Ineligible Items

Shipping and handling charges are 15% of the subtotal of the items, after any discounts are applied, with a $99 minimum charge. If the subtotal is greater than $1,000, please call 1-877-350-0645 or E-mail freight_quote@schoolspecialty.com for a freight quote.

School Specialty Shipping Policy

Items Shipped Within the Contiguous 48 United States

Free Shipping Eligible Items

Free shipping and handling on eligible supply orders of $49 or more. Free shipping calculation is based on the subtotals of eligible items, after any additional discounts are applied.
For subtotals less than $49, the shipping and handling charge is $9.95.

Free Shipping Ineligible Items

Shipping and handling charges are 12% of the subtotal of the items, after any discounts are applied, with a $5 minimum charge.

Free Shipping Ineligible Items

Shipping and handling charges are 15% of the subtotal of the items, after any discounts are applied, with a $99 minimum charge. If the subtotal is greater than $1,000, please call 1-877-350-0645 or E-mail freight_quote@schoolspecialty.com for a freight quote.

School Specialty Shipping Policy

Items Shipped Within the Contiguous 48 United States

Free Shipping Eligible Items

Free shipping and handling on eligible supply orders of $49 or more. Free shipping calculation is based on the subtotals of eligible items, after any additional discounts are applied.
For subtotals less than $49, the shipping and handling charge is $9.95.

Free Shipping Ineligible Items

Shipping and handling charges are 12% of the subtotal of the items, after any discounts are applied, with a $5 minimum charge.

Free Shipping Ineligible Items

Shipping and handling charges are 15% of the subtotal of the items, after any discounts are applied, with a $99 minimum charge. If the subtotal is greater than $1,000, please call 1-877-350-0645 or E-mail freight_quote@schoolspecialty.com for a freight quote.

School Specialty Shipping Policy

Items Shipped Within the Contiguous 48 United States

Free Shipping Eligible Items

Free shipping and handling on eligible supply orders of $49 or more. Free shipping calculation is based on the subtotals of eligible items, after any additional discounts are applied.
For subtotals less than $49, the shipping and handling charge is $9.95.

Free Shipping Ineligible Items

Shipping and handling charges are 12% of the subtotal of the items, after any discounts are applied, with a $5 minimum charge.

Free Shipping Ineligible Items

Shipping and handling charges are 15% of the subtotal of the items, after any discounts are applied, with a $99 minimum charge. If the subtotal is greater than $1,000, please call 1-877-350-0645 or E-mail freight_quote@schoolspecialty.com for a freight quote.

{ searchResult: { pageSize: 24, searchTerms: '', totalPageNumber: 2.0, totalResultCount: 28, currentPageNumber:1, attributes: "" } }