Peaceable Kingdom Masks
Lesson Plan, Grades PreK, Sax Lesson Plans, Art, Social Studies, Language Arts, Sax, Roylco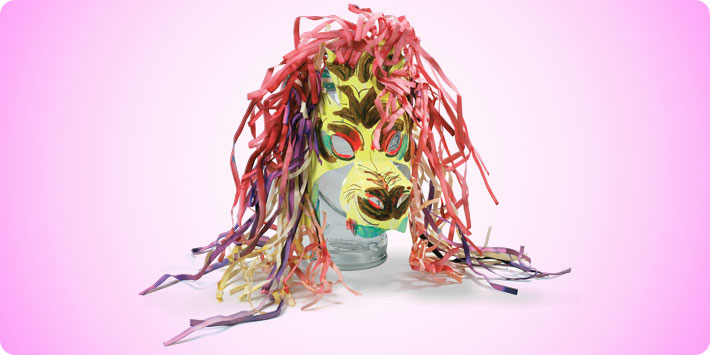 Description
Cultures around the world and throughout time have told vivid animal stories. Ascribing emotions and motivations to animals is a way for humans to better understand themselves. Children love to hear these stories, drinking in their rich imagery and identifying with the feelings they conjure. They also love to tell such stories, especially when they're dressed for the part! To that end, your students can embellish expressive animal masks with simple, colorful materials.
Objectives
Students will design and create masks inspired by animal characteristics. Students will visually interpret and re-enact animal stories and folktales from around the world.
Supplies Needed
Roylco® Wild Animal Masks, 30-count pack 410523
Raffia Vari-Color, 12 oz. 227133
Roylco® Amazing Animal Papers, 40 assorted sheets 247334
Roylco® Fabric Mosaics/Remnants, 400-count pack 1289188
School Smart Non-Toxic Washable Tempera Paint Set, 1 pt 1 pt Plastic Bottle, Assorted Glitter Color, Set of 1439241
School Smart Non-Toxic Washable Tempera Paint Set, 1 pt 1 pt Plastic Bottle, Assorted Metallic Color, Set of 6 1439242
Poster Paint Markers, 10-color set 077716
Prang® Washable Markers, 8-color set 210782
TRU-RAY® Construction Paper, 9"x12", Assorted colors, Pack of 50 sheets 054054
Elmer's® School Glue, 4 oz. 008970
Chenille Stems, 100 assorted colors, each 12" 08581
Feathers, 12 assorted solid colors, each 12" 086302
Resources:
Culture Mask Prints, 12-print set 424323
Crystal Productions Aboriginal Art Prints, Set 2 with Guide - Includes 12 prints, teachers guide, portfolio - 16 x 12 inches each - DVD - 28 Minutes 404610

Standards
CONTENT Standard #1: Understanding and applying media, techniques and processes
CONTENT Standard #6: Making connections between visual arts and other disciplines

Instructions
1
Motivate students to create their own animal masks:
2
Select a wild animal mask. Remove loose pieces from the mask and discard.
3
Gather art supplies with which to embellish the mask: paper, yarn, scissors, glue, crayons, masking tape, washable paint, paint markers and fabric remnants.
4
Keep the mask flat to decorate it, following a picture or sample as necessary for guidance on color and patterns. Let washable paint and paint markers dry. Then glue on decorative paper, yarn, fabric remnants and the like.
5
Fold mask along the lines and pleats. Tape.
6
Attach one chenille stem to each side of the mask to hold it over the face.
Lesson plan extensions: