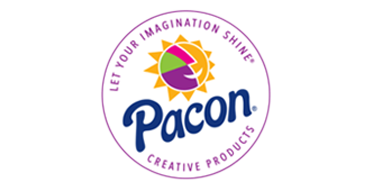 Help Imaginations Shine with Pacon®
Helping Teachers, Students, and Artists Be Their Best
From construction paper to poster board to chenille stems, Pacon products inspire students, teachers, and parents to let their imaginations shine. With a collection of trusted brands like Fadeless®, Bordette®, Tru-Ray®, Riverside®, and Creativity Street®, Pacon provides the innovative, educational products that help teachers create functional and inspiring learning environments.
Category
Pacon
Select Special Needs Type
Press enter to collapse or expand the menu.
Product List
School Specialty Shipping Policy

Items Shipped Within the Contiguous 48 United States

Free Shipping Eligible Items

Free shipping and handling on eligible supply orders of $49 or more. Free shipping calculation is based on the subtotals of eligible items, after any additional discounts are applied.
For subtotals less than $49, the shipping and handling charge is $9.95.

Free Shipping Ineligible Items

Shipping and handling charges are 12% of the subtotal of the items, after any discounts are applied, with a $5 minimum charge.

Free Shipping Ineligible Items

Shipping and handling charges are 15% of the subtotal of the items, after any discounts are applied, with a $99 minimum charge. If the subtotal is greater than $1,000, please call 1-877-350-0645 or E-mail freight_quote@schoolspecialty.com for a freight quote.

School Specialty Shipping Policy

Items Shipped Within the Contiguous 48 United States

Free Shipping Eligible Items

Free shipping and handling on eligible supply orders of $49 or more. Free shipping calculation is based on the subtotals of eligible items, after any additional discounts are applied.
For subtotals less than $49, the shipping and handling charge is $9.95.

Free Shipping Ineligible Items

Shipping and handling charges are 12% of the subtotal of the items, after any discounts are applied, with a $5 minimum charge.

Free Shipping Ineligible Items

Shipping and handling charges are 15% of the subtotal of the items, after any discounts are applied, with a $99 minimum charge. If the subtotal is greater than $1,000, please call 1-877-350-0645 or E-mail freight_quote@schoolspecialty.com for a freight quote.

School Specialty Shipping Policy

Items Shipped Within the Contiguous 48 United States

Free Shipping Eligible Items

Free shipping and handling on eligible supply orders of $49 or more. Free shipping calculation is based on the subtotals of eligible items, after any additional discounts are applied.
For subtotals less than $49, the shipping and handling charge is $9.95.

Free Shipping Ineligible Items

Shipping and handling charges are 12% of the subtotal of the items, after any discounts are applied, with a $5 minimum charge.

Free Shipping Ineligible Items

Shipping and handling charges are 15% of the subtotal of the items, after any discounts are applied, with a $99 minimum charge. If the subtotal is greater than $1,000, please call 1-877-350-0645 or E-mail freight_quote@schoolspecialty.com for a freight quote.

School Specialty Shipping Policy

Items Shipped Within the Contiguous 48 United States

Free Shipping Eligible Items

Free shipping and handling on eligible supply orders of $49 or more. Free shipping calculation is based on the subtotals of eligible items, after any additional discounts are applied.
For subtotals less than $49, the shipping and handling charge is $9.95.

Free Shipping Ineligible Items

Shipping and handling charges are 12% of the subtotal of the items, after any discounts are applied, with a $5 minimum charge.

Free Shipping Ineligible Items

Shipping and handling charges are 15% of the subtotal of the items, after any discounts are applied, with a $99 minimum charge. If the subtotal is greater than $1,000, please call 1-877-350-0645 or E-mail freight_quote@schoolspecialty.com for a freight quote.

School Specialty Shipping Policy

Items Shipped Within the Contiguous 48 United States

Free Shipping Eligible Items

Free shipping and handling on eligible supply orders of $49 or more. Free shipping calculation is based on the subtotals of eligible items, after any additional discounts are applied.
For subtotals less than $49, the shipping and handling charge is $9.95.

Free Shipping Ineligible Items

Shipping and handling charges are 12% of the subtotal of the items, after any discounts are applied, with a $5 minimum charge.

Free Shipping Ineligible Items

Shipping and handling charges are 15% of the subtotal of the items, after any discounts are applied, with a $99 minimum charge. If the subtotal is greater than $1,000, please call 1-877-350-0645 or E-mail freight_quote@schoolspecialty.com for a freight quote.

School Specialty Shipping Policy

Items Shipped Within the Contiguous 48 United States

Free Shipping Eligible Items

Free shipping and handling on eligible supply orders of $49 or more. Free shipping calculation is based on the subtotals of eligible items, after any additional discounts are applied.
For subtotals less than $49, the shipping and handling charge is $9.95.

Free Shipping Ineligible Items

Shipping and handling charges are 12% of the subtotal of the items, after any discounts are applied, with a $5 minimum charge.

Free Shipping Ineligible Items

Shipping and handling charges are 15% of the subtotal of the items, after any discounts are applied, with a $99 minimum charge. If the subtotal is greater than $1,000, please call 1-877-350-0645 or E-mail freight_quote@schoolspecialty.com for a freight quote.

School Specialty Shipping Policy

Items Shipped Within the Contiguous 48 United States

Free Shipping Eligible Items

Free shipping and handling on eligible supply orders of $49 or more. Free shipping calculation is based on the subtotals of eligible items, after any additional discounts are applied.
For subtotals less than $49, the shipping and handling charge is $9.95.

Free Shipping Ineligible Items

Shipping and handling charges are 12% of the subtotal of the items, after any discounts are applied, with a $5 minimum charge.

Free Shipping Ineligible Items

Shipping and handling charges are 15% of the subtotal of the items, after any discounts are applied, with a $99 minimum charge. If the subtotal is greater than $1,000, please call 1-877-350-0645 or E-mail freight_quote@schoolspecialty.com for a freight quote.

School Specialty Shipping Policy

Items Shipped Within the Contiguous 48 United States

Free Shipping Eligible Items

Free shipping and handling on eligible supply orders of $49 or more. Free shipping calculation is based on the subtotals of eligible items, after any additional discounts are applied.
For subtotals less than $49, the shipping and handling charge is $9.95.

Free Shipping Ineligible Items

Shipping and handling charges are 12% of the subtotal of the items, after any discounts are applied, with a $5 minimum charge.

Free Shipping Ineligible Items

Shipping and handling charges are 15% of the subtotal of the items, after any discounts are applied, with a $99 minimum charge. If the subtotal is greater than $1,000, please call 1-877-350-0645 or E-mail freight_quote@schoolspecialty.com for a freight quote.

School Specialty Shipping Policy

Items Shipped Within the Contiguous 48 United States

Free Shipping Eligible Items

Free shipping and handling on eligible supply orders of $49 or more. Free shipping calculation is based on the subtotals of eligible items, after any additional discounts are applied.
For subtotals less than $49, the shipping and handling charge is $9.95.

Free Shipping Ineligible Items

Shipping and handling charges are 12% of the subtotal of the items, after any discounts are applied, with a $5 minimum charge.

Free Shipping Ineligible Items

Shipping and handling charges are 15% of the subtotal of the items, after any discounts are applied, with a $99 minimum charge. If the subtotal is greater than $1,000, please call 1-877-350-0645 or E-mail freight_quote@schoolspecialty.com for a freight quote.

School Specialty Shipping Policy

Items Shipped Within the Contiguous 48 United States

Free Shipping Eligible Items

Free shipping and handling on eligible supply orders of $49 or more. Free shipping calculation is based on the subtotals of eligible items, after any additional discounts are applied.
For subtotals less than $49, the shipping and handling charge is $9.95.

Free Shipping Ineligible Items

Shipping and handling charges are 12% of the subtotal of the items, after any discounts are applied, with a $5 minimum charge.

Free Shipping Ineligible Items

Shipping and handling charges are 15% of the subtotal of the items, after any discounts are applied, with a $99 minimum charge. If the subtotal is greater than $1,000, please call 1-877-350-0645 or E-mail freight_quote@schoolspecialty.com for a freight quote.

School Specialty Shipping Policy

Items Shipped Within the Contiguous 48 United States

Free Shipping Eligible Items

Free shipping and handling on eligible supply orders of $49 or more. Free shipping calculation is based on the subtotals of eligible items, after any additional discounts are applied.
For subtotals less than $49, the shipping and handling charge is $9.95.

Free Shipping Ineligible Items

Shipping and handling charges are 12% of the subtotal of the items, after any discounts are applied, with a $5 minimum charge.

Free Shipping Ineligible Items

Shipping and handling charges are 15% of the subtotal of the items, after any discounts are applied, with a $99 minimum charge. If the subtotal is greater than $1,000, please call 1-877-350-0645 or E-mail freight_quote@schoolspecialty.com for a freight quote.

School Specialty Shipping Policy

Items Shipped Within the Contiguous 48 United States

Free Shipping Eligible Items

Free shipping and handling on eligible supply orders of $49 or more. Free shipping calculation is based on the subtotals of eligible items, after any additional discounts are applied.
For subtotals less than $49, the shipping and handling charge is $9.95.

Free Shipping Ineligible Items

Shipping and handling charges are 12% of the subtotal of the items, after any discounts are applied, with a $5 minimum charge.

Free Shipping Ineligible Items

Shipping and handling charges are 15% of the subtotal of the items, after any discounts are applied, with a $99 minimum charge. If the subtotal is greater than $1,000, please call 1-877-350-0645 or E-mail freight_quote@schoolspecialty.com for a freight quote.

School Specialty Shipping Policy

Items Shipped Within the Contiguous 48 United States

Free Shipping Eligible Items

Free shipping and handling on eligible supply orders of $49 or more. Free shipping calculation is based on the subtotals of eligible items, after any additional discounts are applied.
For subtotals less than $49, the shipping and handling charge is $9.95.

Free Shipping Ineligible Items

Shipping and handling charges are 12% of the subtotal of the items, after any discounts are applied, with a $5 minimum charge.

Free Shipping Ineligible Items

Shipping and handling charges are 15% of the subtotal of the items, after any discounts are applied, with a $99 minimum charge. If the subtotal is greater than $1,000, please call 1-877-350-0645 or E-mail freight_quote@schoolspecialty.com for a freight quote.

School Specialty Shipping Policy

Items Shipped Within the Contiguous 48 United States

Free Shipping Eligible Items

Free shipping and handling on eligible supply orders of $49 or more. Free shipping calculation is based on the subtotals of eligible items, after any additional discounts are applied.
For subtotals less than $49, the shipping and handling charge is $9.95.

Free Shipping Ineligible Items

Shipping and handling charges are 12% of the subtotal of the items, after any discounts are applied, with a $5 minimum charge.

Free Shipping Ineligible Items

Shipping and handling charges are 15% of the subtotal of the items, after any discounts are applied, with a $99 minimum charge. If the subtotal is greater than $1,000, please call 1-877-350-0645 or E-mail freight_quote@schoolspecialty.com for a freight quote.

School Specialty Shipping Policy

Items Shipped Within the Contiguous 48 United States

Free Shipping Eligible Items

Free shipping and handling on eligible supply orders of $49 or more. Free shipping calculation is based on the subtotals of eligible items, after any additional discounts are applied.
For subtotals less than $49, the shipping and handling charge is $9.95.

Free Shipping Ineligible Items

Shipping and handling charges are 12% of the subtotal of the items, after any discounts are applied, with a $5 minimum charge.

Free Shipping Ineligible Items

Shipping and handling charges are 15% of the subtotal of the items, after any discounts are applied, with a $99 minimum charge. If the subtotal is greater than $1,000, please call 1-877-350-0645 or E-mail freight_quote@schoolspecialty.com for a freight quote.

School Specialty Shipping Policy

Items Shipped Within the Contiguous 48 United States

Free Shipping Eligible Items

Free shipping and handling on eligible supply orders of $49 or more. Free shipping calculation is based on the subtotals of eligible items, after any additional discounts are applied.
For subtotals less than $49, the shipping and handling charge is $9.95.

Free Shipping Ineligible Items

Shipping and handling charges are 12% of the subtotal of the items, after any discounts are applied, with a $5 minimum charge.

Free Shipping Ineligible Items

Shipping and handling charges are 15% of the subtotal of the items, after any discounts are applied, with a $99 minimum charge. If the subtotal is greater than $1,000, please call 1-877-350-0645 or E-mail freight_quote@schoolspecialty.com for a freight quote.

School Specialty Shipping Policy

Items Shipped Within the Contiguous 48 United States

Free Shipping Eligible Items

Free shipping and handling on eligible supply orders of $49 or more. Free shipping calculation is based on the subtotals of eligible items, after any additional discounts are applied.
For subtotals less than $49, the shipping and handling charge is $9.95.

Free Shipping Ineligible Items

Shipping and handling charges are 12% of the subtotal of the items, after any discounts are applied, with a $5 minimum charge.

Free Shipping Ineligible Items

Shipping and handling charges are 15% of the subtotal of the items, after any discounts are applied, with a $99 minimum charge. If the subtotal is greater than $1,000, please call 1-877-350-0645 or E-mail freight_quote@schoolspecialty.com for a freight quote.

School Specialty Shipping Policy

Items Shipped Within the Contiguous 48 United States

Free Shipping Eligible Items

Free shipping and handling on eligible supply orders of $49 or more. Free shipping calculation is based on the subtotals of eligible items, after any additional discounts are applied.
For subtotals less than $49, the shipping and handling charge is $9.95.

Free Shipping Ineligible Items

Shipping and handling charges are 12% of the subtotal of the items, after any discounts are applied, with a $5 minimum charge.

Free Shipping Ineligible Items

Shipping and handling charges are 15% of the subtotal of the items, after any discounts are applied, with a $99 minimum charge. If the subtotal is greater than $1,000, please call 1-877-350-0645 or E-mail freight_quote@schoolspecialty.com for a freight quote.

School Specialty Shipping Policy

Items Shipped Within the Contiguous 48 United States

Free Shipping Eligible Items

Free shipping and handling on eligible supply orders of $49 or more. Free shipping calculation is based on the subtotals of eligible items, after any additional discounts are applied.
For subtotals less than $49, the shipping and handling charge is $9.95.

Free Shipping Ineligible Items

Shipping and handling charges are 12% of the subtotal of the items, after any discounts are applied, with a $5 minimum charge.

Free Shipping Ineligible Items

Shipping and handling charges are 15% of the subtotal of the items, after any discounts are applied, with a $99 minimum charge. If the subtotal is greater than $1,000, please call 1-877-350-0645 or E-mail freight_quote@schoolspecialty.com for a freight quote.

School Specialty Shipping Policy

Items Shipped Within the Contiguous 48 United States

Free Shipping Eligible Items

Free shipping and handling on eligible supply orders of $49 or more. Free shipping calculation is based on the subtotals of eligible items, after any additional discounts are applied.
For subtotals less than $49, the shipping and handling charge is $9.95.

Free Shipping Ineligible Items

Shipping and handling charges are 12% of the subtotal of the items, after any discounts are applied, with a $5 minimum charge.

Free Shipping Ineligible Items

Shipping and handling charges are 15% of the subtotal of the items, after any discounts are applied, with a $99 minimum charge. If the subtotal is greater than $1,000, please call 1-877-350-0645 or E-mail freight_quote@schoolspecialty.com for a freight quote.

School Specialty Shipping Policy

Items Shipped Within the Contiguous 48 United States

Free Shipping Eligible Items

Free shipping and handling on eligible supply orders of $49 or more. Free shipping calculation is based on the subtotals of eligible items, after any additional discounts are applied.
For subtotals less than $49, the shipping and handling charge is $9.95.

Free Shipping Ineligible Items

Shipping and handling charges are 12% of the subtotal of the items, after any discounts are applied, with a $5 minimum charge.

Free Shipping Ineligible Items

Shipping and handling charges are 15% of the subtotal of the items, after any discounts are applied, with a $99 minimum charge. If the subtotal is greater than $1,000, please call 1-877-350-0645 or E-mail freight_quote@schoolspecialty.com for a freight quote.

School Specialty Shipping Policy

Items Shipped Within the Contiguous 48 United States

Free Shipping Eligible Items

Free shipping and handling on eligible supply orders of $49 or more. Free shipping calculation is based on the subtotals of eligible items, after any additional discounts are applied.
For subtotals less than $49, the shipping and handling charge is $9.95.

Free Shipping Ineligible Items

Shipping and handling charges are 12% of the subtotal of the items, after any discounts are applied, with a $5 minimum charge.

Free Shipping Ineligible Items

Shipping and handling charges are 15% of the subtotal of the items, after any discounts are applied, with a $99 minimum charge. If the subtotal is greater than $1,000, please call 1-877-350-0645 or E-mail freight_quote@schoolspecialty.com for a freight quote.

School Specialty Shipping Policy

Items Shipped Within the Contiguous 48 United States

Free Shipping Eligible Items

Free shipping and handling on eligible supply orders of $49 or more. Free shipping calculation is based on the subtotals of eligible items, after any additional discounts are applied.
For subtotals less than $49, the shipping and handling charge is $9.95.

Free Shipping Ineligible Items

Shipping and handling charges are 12% of the subtotal of the items, after any discounts are applied, with a $5 minimum charge.

Free Shipping Ineligible Items

Shipping and handling charges are 15% of the subtotal of the items, after any discounts are applied, with a $99 minimum charge. If the subtotal is greater than $1,000, please call 1-877-350-0645 or E-mail freight_quote@schoolspecialty.com for a freight quote.

School Specialty Shipping Policy

Items Shipped Within the Contiguous 48 United States

Free Shipping Eligible Items

Free shipping and handling on eligible supply orders of $49 or more. Free shipping calculation is based on the subtotals of eligible items, after any additional discounts are applied.
For subtotals less than $49, the shipping and handling charge is $9.95.

Free Shipping Ineligible Items

Shipping and handling charges are 12% of the subtotal of the items, after any discounts are applied, with a $5 minimum charge.

Free Shipping Ineligible Items

Shipping and handling charges are 15% of the subtotal of the items, after any discounts are applied, with a $99 minimum charge. If the subtotal is greater than $1,000, please call 1-877-350-0645 or E-mail freight_quote@schoolspecialty.com for a freight quote.

{ searchResult: { pageSize: 24, searchTerms: '', totalPageNumber: 65.0, totalResultCount: 1557, currentPageNumber:1, attributes: "" } }