Metallic Weavings
Lesson Plan, Grades K-12, Sax Lesson Plans, Art, History, Sax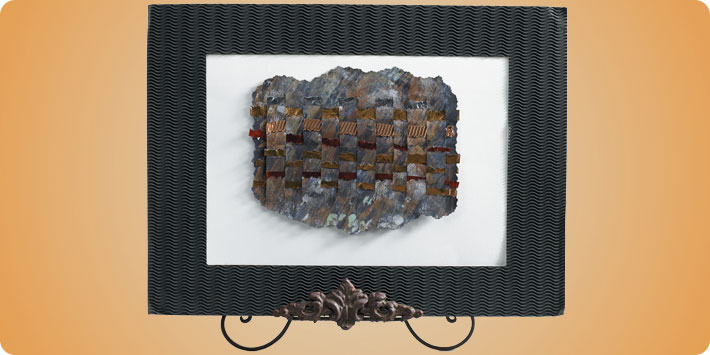 Description
The history of weaving is many millennia long. On continents from Asia to South America, woven fabrics date back as far as 5,000 B.C. Throughout the world, weaving has been used by many cultures for countless purposes - from woven rugs and clothing to woven covers intended to protect religious manuscripts from dust and decay. The geometric patterns in weavings have inspired modern artists to mimic such patterns in their works of art. Your students can give this centuries-old art form a contemporary twist by creating their own mixed-media weavings that incorporate a variety of patterns and textures.
Objectives
Students will create weavings with paper and metal, observing the variety of patterns and textures they can fashion. Students will explore weaving techniques, media and applications throughout history.
Supplies Needed
Mayco Magic Metallics Non-Toxic Metallic Paint, 8 oz Bottle, Steel 406499
Copper 406494
Gold 406497
Dark Bronze 406496
Verde Green 406482
Riverside® Construction Paper, 18" x 24" sheets, 50-76 lb. 248665
Fiskars® Crimpers Standard 216747
School Smart Paper Edger Scissor Set with Oak Stand, 6-1/2 X 2-1/2 in, Stainless Steel Blade
Plastic Handle, Assorted Color, Set of 24 085009
School Smart Paper Edger Scissor Set, Stainless Steel Blade, Plastic Handle, Assorted Color, Set of 6 085067
Colored Aluminum Foil Rolls, 38-gauge
Goldtone 459173
Redtone 409996
Greentone 409993
Bluetone 409984

Standards
CONTENT Standard #1: Understanding and applying media, techniques and processes
CONTENT Standard #6: Making connections between visual arts and other disciplines

Instructions
Teacher preparation:
Gather resources from the library and the Internet as well as samples of woven materials that illustrate an array of weaving techniques and media. Cut 18 x 24 inch sheets of black RiversideTM Construction Paper in half to 9 x 12 inch.
1
Explore and discuss examples of different weaving techniques. Show samples of woven materials like clothing, rugs and the like.
2
Orient a piece of black construction paper 9 x 12 inch or smaller vertically on the table. Using a pencil and a ruler, mark it with horizontal lines about ½ inch apart, starting and ending the lines ½ inch from the edge of the paper. Cut along the lines with a scissors or with an X-ACTO® knife on a self-healing mat to create slits. For young children, mark the lines 1 inch apart and fold paper in half to cut slits.
3
Paint the paper with Magic Metallic paint. Spray the painted paper with patina solution to create a Verde, Green or Rapid Rust effect. Dry.
4
If desired, cut the edges of the paper with Paper Edgers or create a parchment effect using a deckle-edge ruler.
5
Cut 38-gauge Colored Aluminum Foil into ½ x 8 inch weaving strips, using a deckle-edge ruler, Fiskars Paper Edgers or paper crimpers as desired to create interesting shapes and textures.
6
Weave foil strips into the paper, passing them over and under through the slits. If desired, integrate adhesive-backed copper foil strips into the weaving, leaving the backing on.
7
Adhere heavy white paper to the back of the woven piece to hold strips in place. If desired, frame the weaving with black mat board.