Celebrate with "Cake"
Lesson Plan, Grades PreK, Art, Early Childhood, Childcraft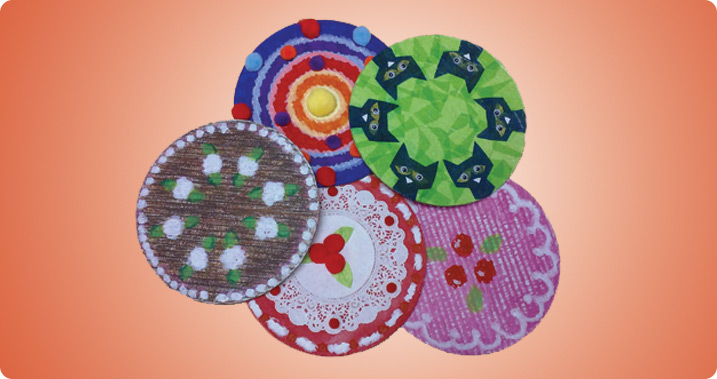 Description
Cakes have been part of celebrations dating back to our Roman ancestors. Let us celebrate the artist and cake lover in each of us by creating a one-of-a-kind Cake Top.
Objectives
Improve fine motor control and grasp.
Supplies Needed
10 inch Design Circles
8 inch Paper dollies
Faber-Castell Gel Sticks - Water Soluble
Prang Washable Colored Markers
Playcolor Tempera Sticks
Crayola Glitter Crayons
Faber-Castell Jumbo Beeswax Crayons
Pom Pons Classroom Pack
KolorFast Designer Craft Tissue Assortments
Mod Podge, Gloss, 16 oz.
Glue, brushes, scrap paper

Standards
Physical Development (Fine Motor): Manipulates writing, drawing and art tools.
Mathematical Knowledge: Develop an understanding of shapes and spatial relationships.
Social Studies: Build an understanding of world cultures through food, art and traditions.

Instructions
Prep:
1
Share pictures of Wayne Thiebaud's cake paintings. Discuss how the artist used bright colors to make his cakes pop on canvas.
2
Bring in a classic cake or pictures of cakes so students can see how they are decorated. Discuss how the icing patterns and decorations can be used to allow the cake to be cut into equal parts.
3
Bring in objects or pictures of objects divided into segments such as citrus fruit. Ask children to point out segments in these objects.
4
Take children to a bakery to see how a cake is decorated.
Process:
5
Introduce art materials to create a decorated Cake Top.
6
Give each child a Design Circle for their Cake Top. Demonstrate on a sample circle how it can be divided into segments. This can give children a basis for the placement of their design/decorations. They may or may not follow this direction. You want individual cakes!
7
Have children decorate their Cake Tops using the various art materials available. Each Cake Top should be unique.
8
Exhibit the finished Cake Tops in your classroom!
Teacher Tips:
Older children may want to experiment with the art materials on scrap paper as they think about how to decorate their Celebration Cake.
Extend the Learning:
Art Masters
American painter, Wayne Thiebaud brought cakes to life on canvas during the Pop Art era of the 60s. He used bright colors and thick paint to enhance his simple yet delectable subject matter. In this activity, children are encouraged to think about everyday objects- such as a cake-that can be the work of a great artist.
Mathematical Thinking
Cakes can come in all sizes and shapes. They can easily be divided into smaller pieces or fractions. Their circumferences can be decorated in patterns that will help the server cut the cakes into equal parts. This activity will give the teacher the opportunity to talk about circles and their components.
Vocabulary
Circle, Whole, Half, Quarter, Eighths, Fractions, Segments, Circumference