Turkey Door Hanger
Activity, Grades 1-12, Fall/Autumn, Riverside, School Smart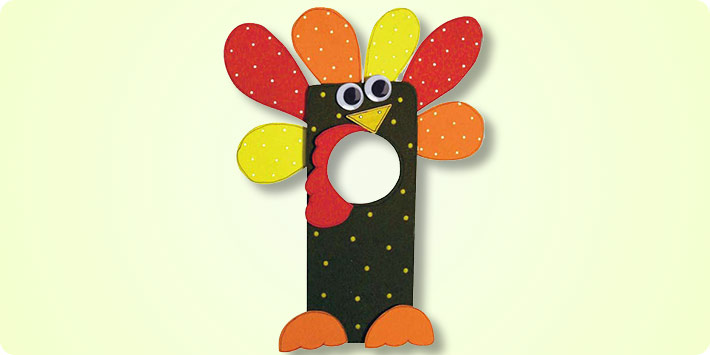 Description
Why drag out all those old Thanksgiving decorations when you can create your own and have fun doing it. This festive door hanger is quick and easy to make in five easy steps.
Supplies Needed
Riverside® Construction Paper
Yellow 248638
Red 248606
Orange 248604
Brown 248644
Wiggly Eyes - 2 Large 085847
Seed Beads 245625
School Smart® Glue 1353893
School Smart® Black marker 085037
School Smart® Scissors 085007
School Smart® Pencil 084453

Instructions
1
Trace and Cut: Using the Template trace and cut the turkey's body from the Brown Construction Paper. Trace and cut feathers from Yellow, Red, and Orange Construction Paper. Trace and cut waddle from Red Construction Paper. Trace and cut feet from Orange Construction Paper.
2
Give It Wiggle: Take 2 large Wiggly Eyes and glue them on to the foam.
3
Glue on the Rest of the Parts: Refer to photo for placement of all pieces and glue in place. Let dry.
4
Give it Specks: Use Seed Beads and glue them on the body and head feathers to give it some texture.
5
Accent It: Outline everything with a black marker.