Boo! Puppets
Activity, Grades , Art, Fall/Autumn, Seasonal, Halloween, Crayola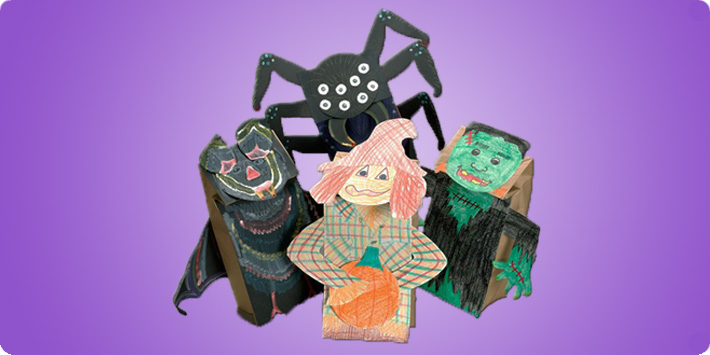 Description
Whether it's scary puppets or friendly characters, double the fun when you make your own paper-bag puppets to act out stories for Halloween or any time of the year.
Supplies Needed
Glitter
Crayons
Glue
Markers
Paper Pads
Scissors
Bag(s)

Instructions
1
Decide on a character, animal, insect, or spider for your hand puppet. You can make anything that moves!
2
Use your imagination along with Crayola Twistables® Crayons and Crayola Gel Markers to decorate a paper bag. Draw your design on the bag.
3
If you use Gel Markers and want a really dramatic effect, such as these Halloween puppets, draw and decorate parts on construction paper. Cut them out with Crayola Scissors. Attach pieces to the bag with Crayola Glue Sticks.
4
Add Crayola Super Sparkle Glitter Glue for accents. Air-dry the glue before performing with your puppet.