Blown Trees
Activity, Grades 1-8, Art, Fall/Autumn, Seasonal, Prang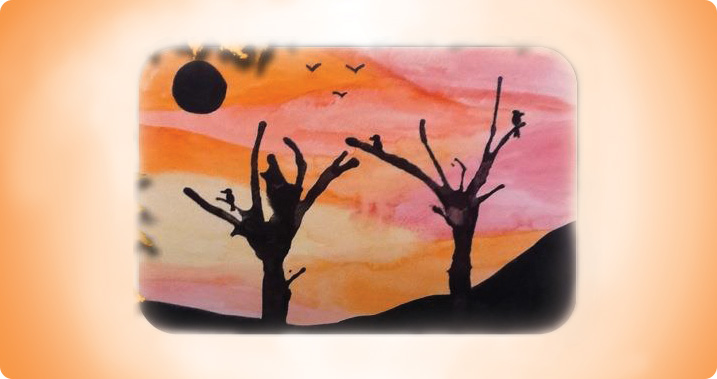 Description
Create beautiful sillouhettes for fall with just a few simple items!
Supplies Needed
Prang Oval-16 Watercolors406021
Prang Metallic Watercolors405577
Black Prang Washable Marker210783
Sax Watercolor Paper408400

Things You May Also Need:
Straw
Water

Instructions
1
Using Prang Oval-16 Watercolors, paint a background completely covering sheet of watercolor paper. Allow to dry.
2
Go over background with Prang Metallic Watercolors to create a cool sheen. Allow to dry.
3
Place a quarter sized amount of black watercolor paint onto paper to be the base of your tree trunk.
4
Using straw, blow paint upward to create a tree. Add more black paint or water as necessary.
5
Repeat steps 3 & 4 to create another tree. Allow to dry.
6
Add details such as the ground or a moon to your painting with a black Prang marker.