Haley's Joy
Swing Therapy Anywhere!
Haley's Joy offers commercial-grade, portable, vestibular swing frames and attachments. This flexible, on the go swing frame comes in three sizes, from early intervention to adult, and serves the needs of schools, hospitals, universities, clinics, and homes.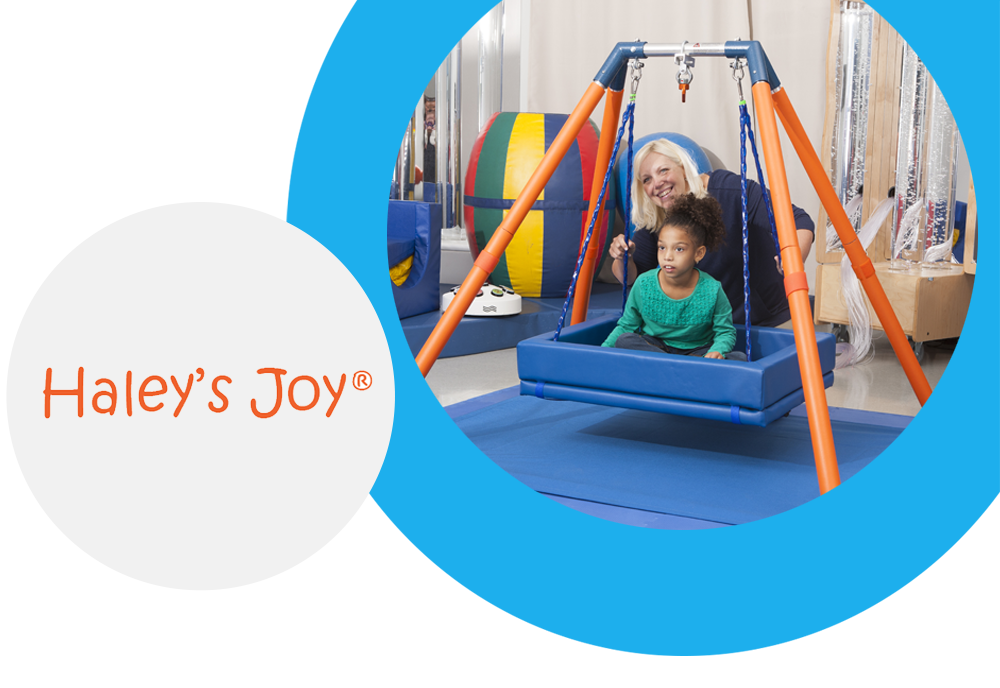 Easy Set-Up
Haley's Joy is lightweight and compact for easy portability and sets up in as little as two minutes- without tools! The swing frame weighs as little as 15-lbs. but has the capacity to hold 300-lbs. Our Mat-Lock™ technology locks the swing frame into the integrated mat for added stability, while the Dual, Easy Glide™ hanging points provide smooth linear swinging.
Safety First
On the Go Swings are engineered for safety. The durable, high-strength aluminum frame is designed with built-in safety features like foam rubber-cushioned leg frames, flexible vinyl swing chains, velcro-covered buttons, and non-slip floor grippers.
Shop Haley's Joy Swing Frames

On the Go 1
Swing Frame

51" x 64" footprint Use with individuals up to 150 lbs. Frame & Mat weigh only 17 lbs. in bag

Shop Now

On the Go 2
Swing Frame

69" x 80" footprint Use with individuals up to 250 lbs. Fits in two bags (9 & 13 lbs.)

Shop Now

On the Go 3
Swing Frame

94" x 85" footprint Use with individuals up to 300 lbs. Fits in two bags (12 & 22 lbs.)

Shop Now

Haley's Joy Swing Accessories
Download Product Manuals and Instructions