Model Magic Messages
Lesson Plan, Grades K-12, Model Magic, Crayola, School Smart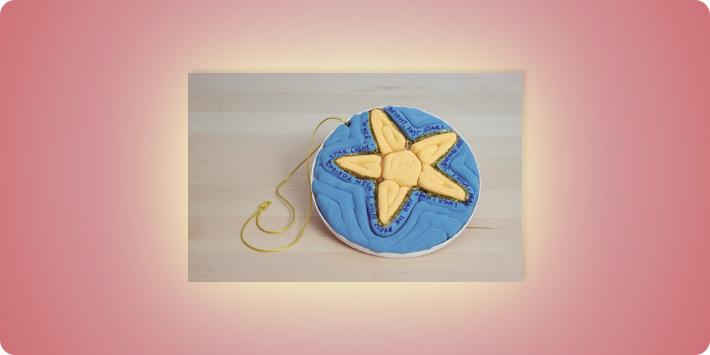 Description
This is an easy and fun project in Crayola® Model Magic® that combines pictures and writing. Young students may choose to use familiar poems and rhymes. Older students may use their own poetry or writing.
Objectives
Students will use Model Magic® to convey their idea with a simple image and write a related poem as part of the image.
Supplies Needed
Model Magic®, White, 2-Lb. Bucket 391130
Model Magic®, 4-Color Set, 2-Lb. Bucket 437543
Model Magic®, Neon 4-Color Set, 2-Lb. Bucket 404890
Crayola® Regular Markers, Classic, Broad Line, 8-Color Set 008196
Crayola® Regular Markers, Classic, Thin Line, 8-Color Set 008172
School Smart® Washable Glitter Glue, 12-Color Set, 4 oz. Bottles 085890
You Will Also Need:
Scissors
Plastic lids from food containers such as coffee cans
String or cord

Standards
CONTENT Standard #1: Understanding and applying media, techniques and processes.
Grades K-4: Students use different media, techniques and processes to communicate ideas, experiences and stories.
CONTENT Standard #2: Using knowledge of structures and functions.
Grades K-4: Students use structures and functions of art to communicate ideas.

Instructions
1
Select a lid. The Model Magic® will be formed in the lid.
2
Decide upon a simple design to be used for your drawing.
3
Select desired colors of Model Magic® or mix your own.
4
To mix colors use one or both of the following methods:
5
Using colored Model Magic®, you may mix colors by putting two colors together, then stretching and twisting until the mixed color is uniform.
6
Draw on moist white Model Magic® with broad line markers, then stretch and twist. You may continue adding marker color until the desired color is achieved. Mix until uniform.
7
Roll coils of the Model Magic® that are about as thick as your thumb.
8
Using the colors have chosen to use for your shape(s), outline the shape(s) with coils of that color. They should be small enough to place them on the lid with extra space around them.
9
Place them on the inside of the lid and fill in the inside of the shape(s) with coils of the desired color.
10
Fill in the rest of the lid with coils of another color. You can trim off extra pieces with scissors.
11
Poke a hole through the lid and Model Magic® at the top of your design.
12
Let the Model Magic® dry overnight.
13
Add Glitter Glue to the drawing if desired.
14
Write the poem you have chosen along the top of the coils so that the design is emphasized by the rows of lettering.
15
Insert a piece of string or cord through the hole and tie a knot so that it can be hung.