At-Home Student Art Contest
We're proud to support budding artists and we have a long history of featuring student artwork, including all mediums and all grade levels. Join us in celebrating your students' artwork by submitting it for consideration to be featured.
New for 2020! A Featured Student Every Month
Throughout the year, we will be featuring a different student artist EVERY month! Each month, your students can choose from a two different mediums to create their artwork. We've even offered a suggested list of products. Tell us about your piece of art and how the products were used to create your masterpiece. Submit a photo of the project along with the School Specialty signed artwork/photo release form and your student could be the star artist for a month!
What Does It Mean to Be a Featured Student Artist?
A School Specialty merchandise certificate worth $250 for the art teacher AND student artist
Featured artwork and artist on our website
Promotion of the art and student artist on social media
It's Easy to Enter
Here's the complete list of monthly art mediums and suggested products to choose from for your student artwork. Pssst... Watch for our 2020 Lesson Plan Brochure (available in March) which will have 20 amazing lesson plans that will correlate with the monthly mediums and suggested products to help inspire your artists.
To submit artwork, simply email the completed artwork release form and an image of the student's artwork to artshare@schoolspecialty.com
MONTH
MEDIUM
SUGGESTED PRODUCTS

March




Submit by
March 31, 2020

Acrylics Paints or Specialty Glue

Elmers® Glow in the Dark Glue
Sax® True Flow Premium Heavy Bodied Acrylic

April




Submit by
April 30, 2020

Colored Pencils or Ceramics

Staedtler® ErgoSoft Colored Pencils
Mayco® Designer Textured Plates

May




Submit by
May 31, 2020

Markers/Colored Pencils or Screen Printing

Crayola® Take Note!™ Permanent Markers
Crayola® Signature Blend & Shade Colored Pencils
Crayola® Color Sticks
Crayola® Metallic Markers
Speedball® Wood Screen with Fabric
Speedball® Water-Soluble Fabric Screen Printing Ink
Speedball® Permanent Acrylic Screen Printing Ink

June




Submit by
June 30, 2020

Construction Paper or Air Dry Clay

TRU-RAY® Construction Paper
DAS Jr® Air-Hardening Modeling Clay
DAS® My Creative Tool Set

July




Submit by
July 31, 2020

Ceramics or Mat Board

Sax® Low Fire Earthenware White Art Clay
Sax® True Flow® Gloss Glazes
Sax® Genuine Canvas Pads
Crescent® No. 33 Smooth White Mat Board
Crescent® Mat Board Assortment

August




Submit by
Aug. 31, 2020

Watercolors or Craft Materials

Simply® Watercolor Paint
Creativity Street® Geometric I Wood Shapes
Creativity Street® Washable Glitter Chip Glue
Creativity Street® Peel & Stick Gemstone
Creativity Street® Assorted Acrylic Stones
Creativity Street® Spiral Stem
Creativity Street® Colored Wood Shapes, Basic Shapes

September




Submit by
Sept. 30, 2020

Acrylic Paints or Permanent Markers

Chromacryl® Acrylic Essentials
Chroma® Molten Metals Acrylic
Sharpie® Metallic Permanent Markers

October




Submit by
Oct. 31, 2020

Ceramics or Oil Pastels

Crayola® Signature™ Pearlescent Cream Sticks
AMACO® Low Fire Earthenware White Art 25 Clay
AMACO® Tile Cutter
AMACO® Textured Clay Rollers
AMACO® Teacher's Palette Light® Glazes
AMACO® Velvet Underglaze

November




Submit by
Nov. 30, 2020

Canvas Panels or Drawing Pencils

Fredrix® Gold Cut Edge Canvas Panels
General's® Semi-Hex® Classic Graphite Drawing Pencils
General's® Woodless Coloring Pencils
General's Kimberly® Watercolor Pencils
General's® Layout Pencil

December




Submit by
Dec. 31, 2020

Craft Materials or Water-Mixable Oil Paints

Roylco® Paper Mesh
Roylco® Plastic Lacing Needle
Roylco® Nature Stencils
Roylco® Color Diffusing Paper
Winsor & Newton® Artisan™ Water-Mixable Oil Colors
View Official Contest Rules

Download the Artwork/Photo Release Form
Congratulations to
our latest featured
student artist,
Dietrich Reierson!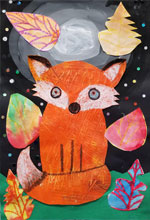 "Textured Sly Fox"
Dietrich Reierson
3rd Grade, West End School
North Plainfield, NJ