Transforming Spaces, Shaping Futures
Today's education needs to prepare students for a future that will be dynamic. Engaging. And ever-changing.
We believe the world we surround learners with today should offer the very same qualities.
At Classroom Select®, everything we offer in our comprehensive line of furniture solutions - from contemporary to traditional, from seating to storage - is designed to help you create such future-ready spaces.
Take a look at our innovative solutions. Consult with our extensive team of experts. And together we can create learning environments that help the next generation of learners become the next generation of leaders.
Education is transforming, so we are, too.
| | |
| --- | --- |
| From… | To… |
| Teacher-centered instruction | Student-centered learning |
| Students fed knowledge | Students acquire knowledge through inquiry and investigation |
| Students restate knowledge | Students demonstrate their learning by co-constructing new products or ideas |
| Whole class instruction | A mix of whole class, small group, and individual learning |
We're excited by the direction education is headed. We have the products to meet the diversity of today's learners and the vision to help shape tomorrow's learning environments.
Dynamic learning needs dynamic spaces that are:
Comprehensive
Classroom Select offers comprehensive furniture solutions for Pre-K through 12th grade. Seating. Tables. Storage. Desks. Equipment. In styles from Contemporary to Traditional. Our new NeoClass line is sleek, flexible and ergonomic. And we'll continue to expand and grow.
Innovative
We have a team of design and education experts in-house who constantly imagine and offer new, innovative solutions. Right now, we're elevating the learning experience through all-new color combinations and finishes. Whatever comes next, we'll be there.
Accessible
Innovation doesn't have to come at a steep price. Classroom Select is our exclusive brand, so you purchase directly from the manufacturer without extra "middleman" costs. We also offer the best market shipping times, because the next generation shouldn't have to wait.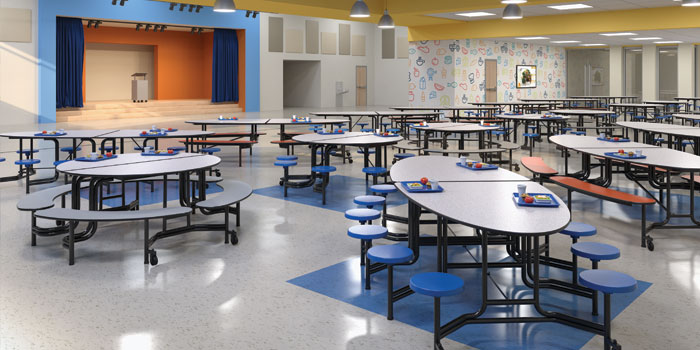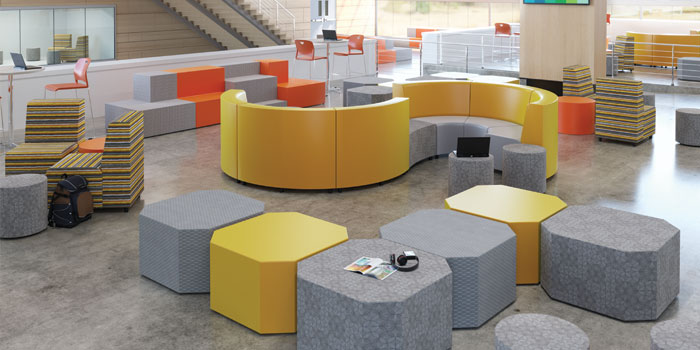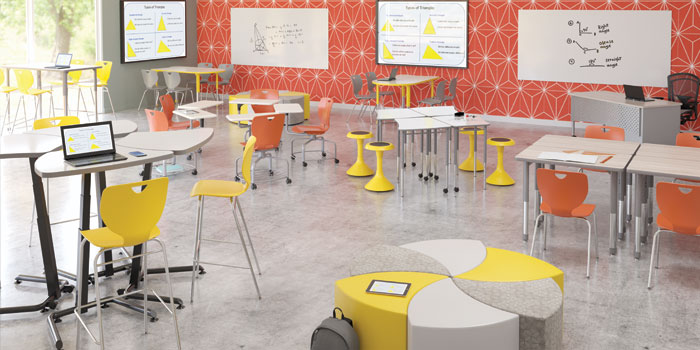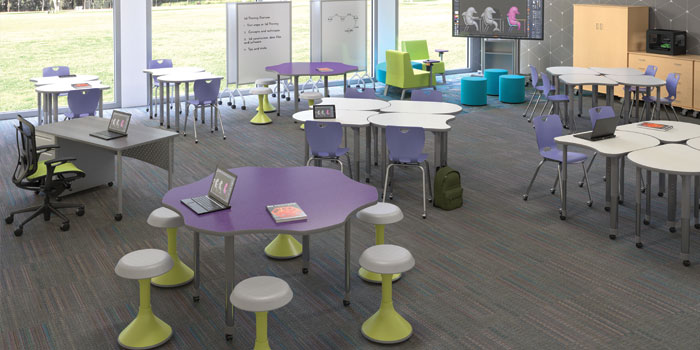 Don't just change your design, change the game.
Imagine a learning environment where students don't want to leave when the bell rings. Where deeper engagement – and deeper learning – can happen.
Studies show the design of a learning space can have big influence on the type of learning that occurs there.
How do you design engaging and inspiring environments that improve outcomes and lead to richer learning?
Six Essential Design Elements for Future-Ready Learning Environments
CHOICE
When kids can choose, they get engaged. Offer tables with variable heights, lots of soft seating, and a range of colors that inspire.
COMFORT
When students are comfortable and confident enough to explore and discover, they learn better. Create spaces with ergonomic furniture, maximum-efficiency lighting, optimal air quality and temperature and watch them go.
VERSATILITY
One space can fit all. Learning spaces can, and should, adjust across modes and activities. Select furniture you can remix and rearrange to meet everyone's needs.
CONNECTION
Collaboration is the power that fuels social energy. Create spaces that encourage interaction between students, teachers, peers, and ideas.
STIMULATION
Engage the body and you engage the whole student. Active learning design doesn't just allow physical movement, it helps the mind swivel to attention, encouraging thinking, focus and exploration.
TECHNOLOGY
It's everywhere… and that's where students need to be able to use it. Wire and equip rooms to allow for learning and charging everywhere.
These are the guiding principles we use to transform any space into future-ready environment that fosters powerful learning experiences.