Pop-Art Heart Card
Activity, Grades 1-6, Language Arts, Art, Seasonal, Crayola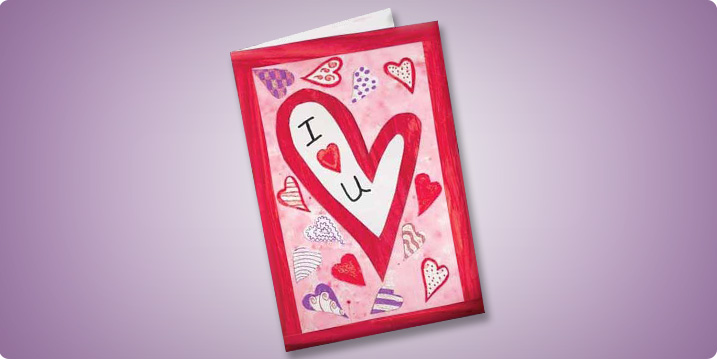 Description
Turn a simple heart into pop art with pizzazz! Make several for unique greeting cards or a wall display.
Objectives
Students recognize the work of important 20th-century artists such as Andy Warhol, Roy Lichtenstein, and Keith Haring.
Students grasp the differences between realistic and abstract art forms.
Students demonstrate an understanding of abstract art by producing a card with a contemporary look.
Supplies Needed
Crayola<sup>®</sup> Glitter Glue
Crayola<sup>®</sup> Colored Pencils
Crayola<sup>®</sup> Glue Stick
Crayola<sup>®</sup> Washable Markers
Crayola<sup>®</sup> Washable Watercolors
Crayola<sup>®</sup> Scissors
School Smart Sponges
Cup or Bottle
Paper Towels
Newspaper
Instructions
1
Discover famous abstract or pop artists such as Andy Warhol, Roy Lichtenstein, and Keith Haring. Find out what they did to ordinary things to give them a contemporary or abstract look. Sometimes they changed a shape or enlarged part of an object to make it look different or unique. You can use these techniques to design a unique pop art card or poster. Create a heart card for Valentine's Day or use any symbol you like for any holiday.
2
Cover your art area with newspaper. Using Crayola® Washable Paint and a Brush, cover one or two sheets of paper with red paint. Air-dry the paper.
3
Fold another piece of paper in half to make a card. To design the background, dab a wet sponge into Crayola® Washable Watercolors. Lightly tap the sponge on the paper for a marbleized look. Air-dry the card.
4
Use Crayola® Erasable Colored Pencils and your imagination to draw a large contemporary-looking heart on the painted paper. Cut out the heart and strips for your card's border with Crayola® Scissors. Cut out the center of the heart. Attach the heart and border strips to your card with Crayola® School Glue.
5
Cut out smaller contemporary-looking hearts from the painted paper or plain paper. Decorate them with Crayola® Fine Tip Markers. Accentuate the hearts with Crayola® Glitter Glue. Air-dry the hearts.
6
Glue hearts scattered around the card. Air-dry the glue.
7
Write a message on the outside and inside of your card.