Cupcake Wars
Lesson Plan, Grades K-12, Smart-fab, Elmer's, School Smart, Fiskars, Fredrix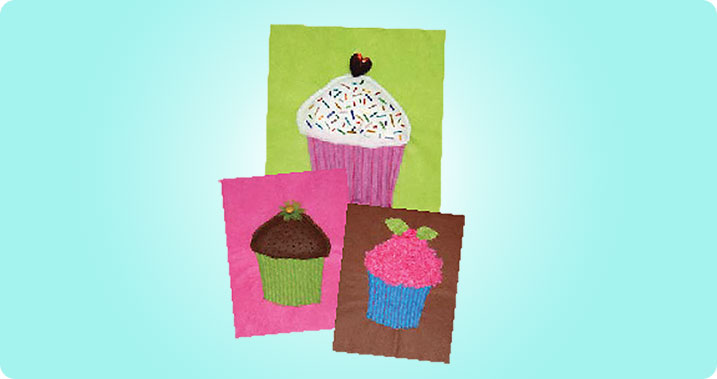 Description
Cupcakes are individual works of art delighting the senses. They come in different colors, textures, shapes and sizes. When they move from the bakery to the art studio they take on a whole different look. With the use of smart-fab™, ribbons, beads, buttons and your student's imagination they will be ready for competition. You and your students can design your own Cupcake War competition.
Objectives
Students will create a cupcake of their own creation using smart-fab™, ribbons and beads.
Students will learn and use various sewing techniques such as trupunto, rushing, beading and tufting to decorate their cupcakes.
Students will explore the use of color, texture and shape to create a winning cupcake.
Supplies Needed
Smart-fab™ 48" x 40'
Blue
Brown
Dark Pink
Grass Green
White
* Visit www.classroomdirect.com for additional colors and sizes available
Elmer's® Craft Glue
Seed Beads
School Smart® Craft Buttons
Ribbon Assortment
Fiskars® Student Scissors
Beading Thread
School Smart® Maribu Feather Fluffs
Gray Chipboard, 26" x 38", 16-Ply
Polyester Fiber Filling
Fredrix Select Pine Stretcher Strips, 8" and 10"
Fredrix Select Pine Stretcher Strip Pegs

Standards
CONTENT Standard #1: Understanding and applying media, techniques and processes.
CONTENT Standard #2: Making connections between visual arts and other disciplines.

Instructions
1
Explore cupcakes by viewing images from the library, periodicals, online sources or visiting a bakery. Discuss the techniques used by bakers to create the carious design patterns on cupcakes. Discuss their current popularity.
2
Study the cake creation of Wayne Thiebaud and other artists who have used food as a theme in their art work.
3
Establish the rules/guidelines for your "Cupcake War" Competition.
4
Study and test out various sewing techniques that can be used to decorate your cupcake.
5
Sketch your cupcake design. Decide what mediums, techniques and decorations will be used to create your award winning cupcake. Think outside the box. Assemble these materials.
6
Sew and or glue your cupcake creation together. Decorate. Attach to a flat piece of smart fab™.
7
The completed cupcake creation can then be stretched over stretcher strips or chip board cut to size.