Patriotic Tin Cans
Activity, Grades K-12, Summer, Art, Seasonal, Sax, School Smart, Roylco, Royal, Prang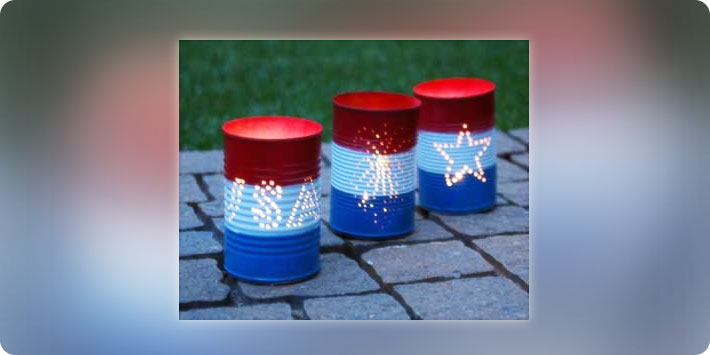 Description
Use your patriotic can to hold pens, pencils, plants, flowers and more!
Objectives
Identify patriotic symbols and discuss why they are important to Americans.
Help students understand how the symbols of our country show our loyalty.
Supplies Needed
Sax True Flow Acrylic Medium Bodied Paint, Pint, Phthalo Red 408500
Sax True Flow Acrylic Medium Bodied Paint, Pint, Phthalo Blue 439247
Sax True Flow Acrylic Medium Bodied Paint, Pint, Titanium White 439265
School Smart Metallic Glue, 8 Oz Bottles, Set of 8 Assorted Colors 401298
Roylco Dip & Print Sponges Numbers, Shapes and Letters Classroom Pack 209336
School Smart Unique Shape Sponge Roller Set, Set of 4 085729
Royal Sable Brush Super Value Pack, Set of 120 409325
Additional Materials:
School Smart Super Value 50 pound Drawing Paper, 18 x 24, Pack of 500, White 085609
Prang Colored Pencils, Set of 12 Assorted Colors 405826
School Smart Plastic Paint Tray with Cover, Pack of 12 085860

Instructions
1
Make sure your cans have no sharp edges, and are clean and dry.
2
Students design their patriotic artwork on drawing paper.
3
When students are ready to paint, apply a base coat to the can. Allow to dry.
4
Add design to can using sponges, brushes or rollers. Allow to dry completely before using.
Tip:
With adult supervision, older students can turn the can into a luminary! Before painting, fill the can with water and freeze. This will allow you to hammer a nail into the side of the can without the can denting. Draw the design on the can, and carefully use a nail and hammer to punch out the design. Allow the ice in the can to melt, and dry the can completely. Add paint as directed above. When you are ready to illuminate, add a little sand to weigh down the cans and add a battery-operated, flameless tea light candle.