Fields of Daffodils
Activity, Grades 3-5, Summer, Spring, Art, Social Studies, Language Arts, Seasonal, Crayola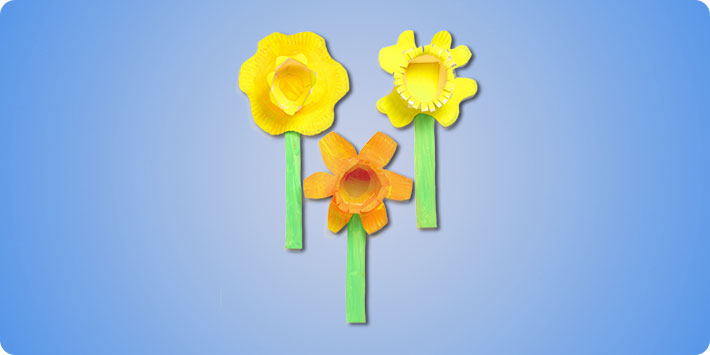 Description
Represent the spirit of hope with a classroom display of sunny daffodils. Plant flowering bulbs and learn how communities help each other heal.What is a community? To which communities do you belong? Think about your local neighborhood, rural area, town, or suburb. How do the people in a community help one another? How can one community help another?
On October 20, 2001, communities in New York City started The Daffodil Project. More than 10,000 volunteers planted million daffodil bulbs. These bulbs were donated by people and organizations in the Netherlands and New York. This project brings a spirit of hope to the city. The daffodils remind people each year of the heroic rescue and recovery efforts after the tragedy on September 11, 2001.Each spring a golden Field of Daffodils weave through the city in more than 1000 parks and green spaces.
Supplies Needed
Crayola® Artista II® Washable Liquid Tempera Paint - 1 Pint - Set of 12 - Assorted Colors 213989
Sax® True Flow® Chubby Oval Wash Brush - 1 /2 inch 462404
School Specialty® Uncoated Paper Plates - 9 inch Diameter - Pack of 100 - White 1004997
Crayola® Blunt Tip Scissors 220794
School Smart® Non Toxic Washable School Glue - 4 Ounce Bottle - Case of 48 1353920
Paper Towels
Recycled Material

Instructions
1
Cover your art area with newspaper. To make your own daffodil, first find out about the parts of these spring flowers. Paint a small paper plate yellow and orange. Use Crayola® Washable Paint and Sax® Brushes.
2
With Crayola® Scissors, cut two strips (about 3 in x 12 in [7 cm x 30 cm]) from a recycled file folder. Paint one white, gold (mix orange and yellow), and yellow. Paint the other strip green for the flower stem. Dry.
3
Use School Smart® School Glue to glue the ends of the yellow strip together to make a crown loop. Dry.
4
Cut four small slits around the edges on one side of the loop. Fold the edges out to make four tabs. Put glue on each tab. Attach crown to the painted plate to make a blooming daffodil. Dry.
5
Cut around the edges of the plate to make it look fringed or scalloped (wavy) if you like. Glue the green stem to the back of your daffodil.
6
Display your daffodil with others made by classmates to make your own Field of Daffodils.