Egg-Stravagant Egg Basket
Activity, Grades 2-4, Art, Language Arts, Social Studies, Seasonal, Spring, Crayola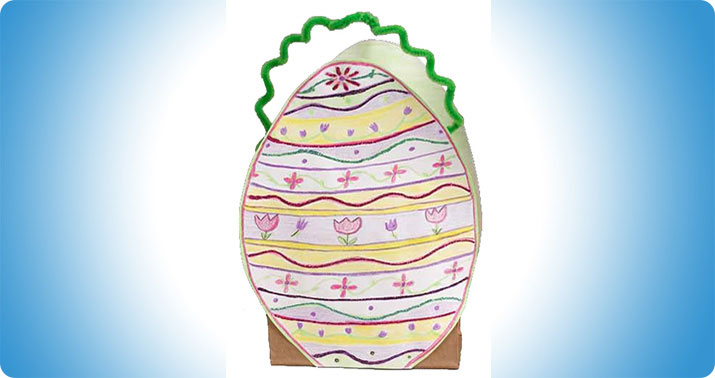 Description
Create a perky spring basket to hold jelly beans, a chocolate bunny, or your art supplies.
Supplies Needed
Crayola® Colored Pencil Classpack with Sharpeners - Pack of 240 - Assorted Colors Item
Crayola® Blunt Tip Scissors
School Smart® Glue Sticks
Crayola® Super Sparkle Washable Glitter Glue - 1/3 Ounce Tubes - Set of 5 - Assorted Colors
Crayola® Washable Glue Sticks - Pack of 12
Chenille Stems - Jumbo - 6mm x 12 inches - Set of 100 - Green
Heavyweight Construction Paper
Paper bag
Hole punch

Instructions
1
Find out about the origins of the Easter basket. Why is the egg a symbol of birth, life, and hope? What spring festivals, in countries around the world, include the egg in their celebrations? Here's one way to make your own egg basket.
2
On construction paper, draw a large egg with Crayola® Colored Pencils. Cut it out with Crayola® Scissors. Trace and cut out a second identical egg.
3
Using colored pencils, decorate one side of each egg. Use your imagination to create spring or Easter patterns. Add Crayola® Glitter Glue to enhance your designs. Dry.
4
Cut or fold a paper lunch bag to about half its size for a basket, or use it full size to carry more items. Attach the decorated paper eggs to the front and back of the bag using Crayola® Glue Sticks.
5
To create a handle, punch a hole on either side of the bag and insert a chenille stick. Twist the ends to secure the handle.