Building it Better Together. You + Premier.
More Control with the
NEW Premier Planner Builder
With the Premier Planner Builder you can see exactly what you are getting in your planner - from the front cover, to handbook pages, page design, and enhancements. You will have more control over what's inside and how it looks*.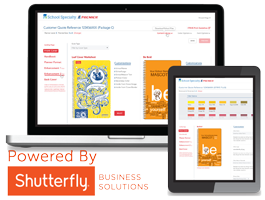 Call us at 1-800-221-1165 and we will help you build it step by step.
More Confidence with NEW Instant Previews and Editing
Now, you can change covers, colors, fonts, logos, and see everything right on screen, updated as you change them. It's all easy to use and, frankly, more than a little fun!
Make Unlimited Edits
Get it just right.
Discover New Cover Options
Find a fresh new look with a click.

Download a Full Preview
Approve every page before it prints.
More Choice with NEW Quick-Pick Packages
We've bundled together our most popular planners into 4 new Student Planner Packages. They make it even faster for you to find a planner, choose your cover, upgrade with an enhancement, and add your handbook pages*.
Don't see what you are looking for? Call us at 800-221-1165.
We're Just Getting Started!
At Premier, making planners that make better students is our calling. Making planners easier to order is our business. And simplifying that order experience is just our first step. We're working on even more innovations to save you time and give you more control over your budgets. It's going to be an amazing year - stay tuned!