Country/State Flip-Book
Lesson Plan, Grades 3-8, Art, Social Studies, Sax, School Smart, Tru-Ray, Yes!, Crayola, Sharpie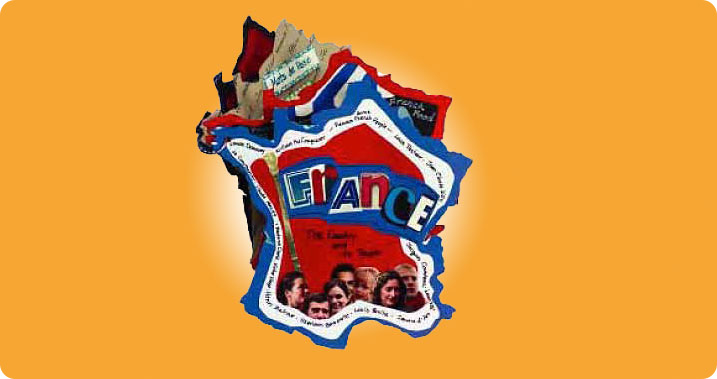 Description
This project is actually a series of mini-projects that offer enormous flexibility to the teacher who wants students to research a country, state, or even a city. By cutting the pages to the shape of the area being studied and encouraging your students to use a wide variety of papers, these little projects can be highly motivating.
What do you wish your students to learn?
The geography of the region?
The foods produced in that area?
Some of the famous architectural sites?
The language?
The day-to-day life, such as leisure time activities?
The history?
Famous people?
By selecting the topics your students may choose, selecting the papers they will use and setting size limits, you can control how difficult and how time-consuming this project series may be. Three pages might be enough for third-graders, while six might be the right amount for sixth-graders.
The book on France presents a wide variety of ideas on how you might have the students make use of different papers. Take the ideas that you especially like from the samples shown here and adapt them to your needs. We suggest that you have students work on each page as a separate project and that each page cover one topic. When all pages are complete, punch a hole in the same "corner" of each page and attach them with a metal ring (key ring or loose-leaf ring).
Objectives
Students will demonstrate understanding of how a variety of materials and processes convey meaning by creating a country /state book with a variety of media.
Students will demonstrate knowledge of a particular country/state by creating a book about that area.
Students will use a variety of organizational principles in their country/state book.
Supplies Needed
A map of the desired region and a copy machine
Sax® Sketch & Trace Paper, 500-Sheet Ream, 9" x 12"
School Smart® Manila Tagboard, 100-Sheet Pkg., 9" x 12"
Tru-Ray® Construction Paper, 9" x 12", Assorted
Yes! Paste Glue, 19-Oz. Jar
Crayola® Colored Pencils, 12-Color Set
Ultra-Fine Sharpie® Markers, 12-Color Set
A soft pencil
Scissors

Things You May Also Need:
White Sulphite Drawing Paper, 50-Lb., 500-Sheet Ream, 9" x 12"
Spectra Art Tissue, 20-Sheet Pkg., 12" x 18", Assortment
Elmer's School Glue, 4-Oz. Bottle
Kimono & Folk Art Origami Squares, 40-Sheet Pkgs., 4-5/8"
Holographic Scratch-Art® Boards, 30-Sheet Pkg., 8-1/2" x 11"
Glitter Construction Paper, 50-Sheet Pkg., Assorted

Standards
CONTENT Standard #1: Understanding and applying media, techniques and processes.
Grades 5-8: Students intentionally take advantage of the qualities and characteristics of art media, techniques and processes to enhance communication of their experiences and ideas.
CONTENT Standard #2:
Grades 5-8: Students employ organizational structures and analyze what makes them effective or not effective in the communication of ideas.

Instructions
1
After determining what topics your students will study, you will need to help them find a map of the region they are investigating. If the map is too small or too large, find a copy machine that allows you to reduce or enlarge the size of the image. Change the map to the size you prefer.
2
Trace the map on tracing paper
3
On the backside of the tracing paper, cover all the traced lines generously using a soft graphite pencil. If you will be copying to dark paper, use white chalk instead of a pencil to coat the lines on the backside of the pattern.
4
Turn the tracing paper face-up again and paper clip it to a piece of tagboard the same size.
5
Using a colored pencil or ballpoint pen, retrace the design, transferring the map outline to the tagboard. Repeat the process for as many pages (or additional layers) as you plan to make and cut them out.
Note:
Tagboard pages can now be used as templates to cut out additional layers of colored paper.
6
Create page CONTENT using layers of colored papers, magazine images, words or letters and written CONTENT created by the student.
7
Glue page elements, magazine images and written CONTENT to tagboard papers, giving them added strength.
8
Punch page covers and secure all pages with a key ring or tie with a cord.
Page Designs
Below are brief explanations of how each page in the "France" book was created. These ideas are meant to give your imagination some inspiration, not as specific instructions that must be adhered to. Feel free to use whatever two-dimensional media in the catalog that you would like to try and that is appropriate for your students.
Book Cover
The sample book cover makes use of Tru-Ray Assorted Construction and also letters and pictures cut from magazines and newspapers. Colors of the French flag were used for both the papers and the letters. Yes! Paste Glue was applied with a bristle brush to glue down all the papers because Yes! is so strong, and does not wrinkle the paper as much as many glues do. Note the use of borders on this page and on others in the book. Creating a simple border around an image strengthens it.
Map
The map was traced from the template to White Sulphite Drawing. The shape was then cut out. Crayola® ColoredPencils were then used to color in geographical details. Ultra-Fine Sharpie® Markers were used to write in the names of major cities, rivers, and mountain ranges and to draw a border around the country.
Food Page
The French Food page makes use of both cut Tru-Ray Assorted Construction and torn Tissue Paper in a "collage."The construction paper shapes were cut to form the main shapes of the picture and tissue was used to "collage" the areas representing produce and flowers. The tissue was torn into small pieces and glued down with watered down Elmer's Glue brushed on. If you are working with younger students, you may wish to have them use precut shapes such as the Card Characters or Hand Pads to create the major portion of their designs. The writing was done with a Sharpie® Fine-Tip Marker.
The background of this page is multicultural construction paper with French sentences written on it in black Sharpie pen. The flaps with the French Mots de Passe ("passwords") are cut from the Kimono and Folk Art Origami Papers with small slips of white sulphite paper glued on. The writing was done with Ultra-Fine Sharpie® Markers. The outer flaps have the French phrases written on them and under the flaps are the English translations.
Architecture Page
The sparkling designs of the Rose window from the Cathedral Notre Dame in Paris and the Eiffel Tower were scratched into Holographic Scratch-Art® Boards. They were cut out and glued to Glitter Construction Paper and then to black construction paper.
Sports Page
A background with the colors of the French flag was cut from Marbled Construction. A border of plain blue construction paper was added. Photos were cut from magazines and taken from the Internet. With these, a photomontage was created of bicycling and skiing. The writing was done with Ultra-Fine Sharpie® Markers.