A Pocket Book for Cross-Curricular Ideas
Lesson Plan, Grades 3-6, Art & Most Other CONTENT Areas, School Smart, Prang, Sharpie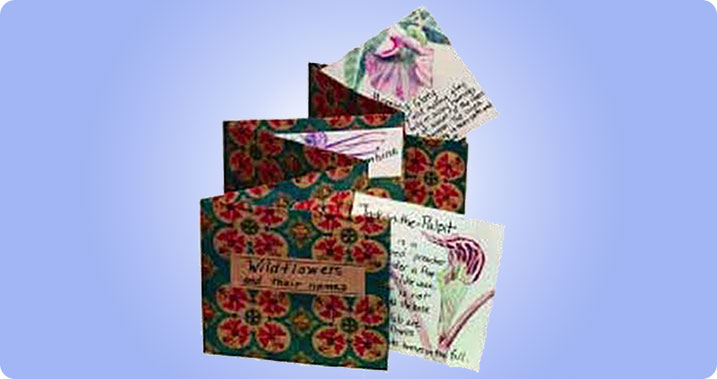 Description
This is an easy-to-make, adaptable and attractive book that can store information about any topic your class is studying. Your students will make an accordion folded pocket book out of any attractive specialty papers glued together and trimmed to be about 30.5" x 8".
Objectives
Students will make choices of materials that will best convey the topic that they are studying.
Supplies Needed
Global Village Design Papers, 40-Sheet Pkg., 8-½" x 11"
School Smart™ Colored Pencils, 12-Color Set
Prang® Color Indicator Glue
Sharpie Fine Point Permanent Markers, 12-color set

Things You May Also Need:
Scissors
White Paper or Index Cards

Standards
CONTENT Standard #1: Understanding and applying media, techniques and processes.
Grades K-4: Students will use different media, techniques and processes to communicate ideas, experiences and stories.

Instructions
1
Glue together four pieces of the Global Design Paper along the side edges.
2
Trim the paper to make one long 30-½" x 8" piece.
3
Lay the paper out on the table lengthwise.
4
Fold in about ¼" at the left and right edges and glue them down.
5
Fold 1" of the long top edge down.
6
Fold up 2-1?3" of the long bottom edge, forming pockets.
7
Glue the top fold down on about ¼" of the left and right edges.
8
Do the same with the bottom fold, or pocket.
9
Fold the paper in half, left to right edge, with the pockets inside.
10
Accordion fold each half into thirds, about 5" wide for each section. Make sure that the front pocket and back pocket of the whole book face inward.
11
Cut paper to fit in the pockets-about 4" x 4-½". You will need at least six pieces per student.
12
Write with the Sharpie Marker any information you wish to include on the papers.
13
Illustrate the papers with colored pencils. Insert them into the pockets.